Search engine optimization (SEO) is changing your website's structure, content, and settings to increase its exposure in search engine results pages (SERPs).
Follow these steps below to make your website more search engine-friendly and see it move up the search engine results pages.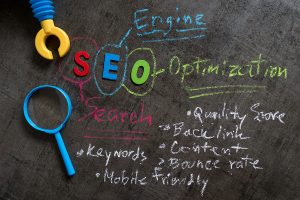 Also Read- How to create a website in 2023: A beginner's guide
1. Post pertinent and reliable content
In SEO, content is king. Produce unique, valuable, high-quality material that appeals to your target market. Ensure that your content is well-written, educational, and captivating.
Avoid using duplicate information and refrain from "keyword stuffing," the practice of overusing terms to trick search engines.
Quality, authoritative content is the main factor affecting your search engine rankings. The more visitors your site receives, the more authoritative and relevant it becomes because of the quality material you've generated with your target audience in mind.
Develop your web writing abilities and establish yourself as a subject matter expert.
2. Generate Keywords
Decide which words and phrases are appropriate for the audience and content of your website. Use keyword research tools to find popular and relevant terms with low competition.
Then, strategically include these keywords in your website's content, headings, meta tags, and URLs.
Multiple keyword phrases
A website will have difficulty ranking for many keyword phrases unless those keywords are substantially similar. For example, "biomedical engineering jobs" and "biomedical engineering careers" may be ranked on the same page.
On the other hand, it is unusual to rank "student affairs" and "dean of students" or "gender discrimination" and "violence reporting procedures" on the same page.
You must create a distinct webpage for each keyword phrase you are targeting if you want your website to rank for several keyword phrases.
As a general rule, limit it to 3–7 terms, each with 1-4 words. An excellent illustration is a "computer science degree."
Maximizing keywords
Once you've decided on your keyword phrase for a particular page, think about these issues:
Can I use the entire keyword phrase or only a portion of the page URL (by employing keywords in folders)?
Can I use the keyword phrase in the page title in full or in part?
Can I use the keyword phrase in page headings and subheadings in whole or in part?
If you check these boxes, your search engine rating will increase. However, be friendly and natural.
For instance, you don't want the term Northern Lights repeated in the page title or any of the headings or the word "engineering" to appear three or more times in the URL.
The opening and closing paragraphs should contain your keyword phrase once or twice each. The remaining sections should have it two to four additional times.
3. Use headlines that are detailed and full of keywords
To organize your information and make it simpler for search engines to comprehend its hierarchy and relevancy, use heading tags (H1, H2, H3, etc.).
Use headings that appropriately reflect the section's or paragraph's content by using descriptive, keyword-rich titles.
Remember to highlight these keywords with bold, italics, header tags (particularly an H1), and other emphasis elements, but stay moderate.
However, you still want your writing to read naturally. Never compromise your writing quality for SEO. The finest pages are written for people, not search engines.
Find fresh content opportunities by learning more about SEO marketing.
Also Read: The Impact of Technology on Job Loss and the Economy
4. Optimise Meta tags, URLs, and media
Meta tags, like title meta descriptions and tags, are HTML tags that give search engines details about your web pages.
You can optimize your meta tags by including pertinent keywords, precisely summarising the page's content, and keeping your meta tags within the advised character limitations.
Make your URLs descriptive, concise, and keyword-rich to optimize them further. To make your photos and other media files easier for search engines to interpret, give them descriptive file names and alt tags.
In addition, images should be compressed to reduce their file size and accelerate page loading.
5. Consistently update your content
One of the best ways to authenticate a site's relevance is by how frequently its content is updated, so make sure to do this. Regularly (every semester, for instance), audit your content and update it as necessary.
6. Blogging
Your departmental news blog's keyword-rich content creation can help improve your search engine rankings. Even shorter updates about the specific subjects you aim for can be used as blog posts.
Link to relevant CMS webpages and blog posts when doing so will help the reader understand the subject matter better or provide them with further details.
7. Have a link-worthy website
The likelihood of receiving connections from other websites increases when a website is authoritative and impartial and helps users learn more about their interests.
This boosts your search engine optimization. You can increase your authority and trustworthiness by including relevant links within the content.
For example, try writing the location's name instead of the "click here" links. "Click here" has little additional value in terms of search engine optimization (SEO) beyond the related URL;
however "Michigan Tech Enterprise Programme" is filled with keywords and will raise both your own and the page you are connecting to in search engine results.
Always link keywords to descriptive links to increase search engine optimization and to provide more value to your users, including those with disabilities or screen readers.
8. Use alt tags
Use alt tags, or alternative text descriptions, to always provide your image and video media with a description.
They are essential, especially for people who use text-only browsers or screen readers, as they enable search engines to find your page.
9. Enhance the speed of website loading
The speed at which a website load is crucial for SEO. Reduce unused scripts, optimize pictures for compression, use browser caching, and use a content delivery network (CDN) to provide material from servers closer to your visitors' locations to improve your website's speed.
10. Create a mobile-friendly website
A mobile-friendly website is essential for SEO, given the growing use of mobile devices for internet browsing.
To ensure your website is accessible and functional on mobile devices, use responsive design or develop a separate mobile version.
Also Read: The need for better cybersecurity measures in the age of technology
11. Enhance user experience (UX)
SEO benefits from a positive UX. Ensure your website is simple to use, has a logical and obvious site structure, and offers a satisfying user experience.
To assist customers in finding what they're looking for on your website, make a sitemap, use descriptive and user-friendly URLs, and add a search tool.
12. Create relevant and high-quality backlinks
Backlinks, links to your website from other websites, significantly impact your website's SEO. Focus on constructing high-quality, relevant, and authoritative backlinks from trustworthy websites in your field.
Avoid backlinks from spammy or low-quality websites because they can harm your website's rankings.
13. Monitor and analyze your website's performance
Use analytics tools to analyze and track the performance of your website, including traffic volume, user behavior, and placement in search results.
Analyze the data to find areas that need improvement, then modify your SEO strategy as necessary.
Also Read: How Tech Companies are Invading our Privacy
Conclusion
Increase your website's search engine optimization and exposure by adhering to these recommended practices, which will bring more natural traffic and potential buyers to your website. Remember, Search Engine Optimization is a continuous process that requires ongoing work and changes to remain effective.
Be in command. Link strategically to additional resources and information, both on the main website of your organization and on other helpful websites.