As more brands increase their social media video content creation efforts, it is critical to maximizing every second of the material you post.
Knowing some successful ideas for making your videos enjoyable might help you create scroll-stopping social media videos.
There should be no duplicate social media posts. There's a reason- no two social media networks are alike.
While 'connecting and sharing with people is at the heart of all platforms, each one is distinct in its way:
Twitter is for updates, Facebook is for staying in touch with friends and family, and LinkedIn is for building contacts and preserving one's professional image.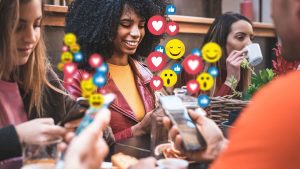 When creating posts for these platforms, keep the following platform-specific considerations in mind:
Who uses the platform and their demographics?

The post-character limit

When is the best time to publish the post?

The perfect size for any photographs or movies.
You must keep these details in mind when writing blogs.
How do I create engaging video content for social media this 2023?
Today, multinational brands and market-leading influencers compete for their audiences' attention through cutting-edge video content on every social media platform.
Indeed, video has become an important marketing medium and the most powerful content type on social media today.
Video is used as a marketing tool by 85% of organizations, with 92% of marketers believing it became an essential part of their social marketing strategy.
According to Hubspot, 99% of video marketers want to continue doing so throughout the year. 95% of them want to increase their spending on video marketing.
As a result, video content has taken over the social marketing world – and this trend is here to stay. Is your company considering entering the online war of social media video campaigns? Here are the steps to follow:
Read Also: How to build your first mobile app
Step 1: Plan Your Strategy and Have a Strong Purpose
Every effective marketing campaign is built on a well-thought-out and well-defined strategy. This regulation applies equally to video content.
That is why it is always advised that brands begin by considering their overall strategy. While designing a successful campaign, keep the end aim in mind.
Consider the measurable outcomes you hope to attain from the campaign. Then devise a clear strategy to get there. The more educated your plan, the better the results you can achieve – which is a non-binding promise.
These few questions to consider to help you develop a better strategy:
What is the purpose of this video?

What will viewers benefit from seeing this video? Who could be the target audience for this video?

Are you producing valuable content that satisfies the demands of your audience?
Once you know the answers to these questions, you will better understand video making and can go from there.
It would help to concentrate on your fundamentals and how you might transform your ideas into a vision.
Step 2: Post Original Video Content
Any social network prefers native videos published on its platform over external links from sites like YouTube.
Native Facebook videos outperform direct YouTube connections by a factor of ten. 
Quintly did a thorough analysis, analyzing 167,000 Facebook profiles and 6 million posts, and discovered that native Facebook videos generated 478% higher shares and 110% more interactions.
There could be two explanations for this:
Native videos begin to autoplay as you scroll down your page on almost any social platform. In contrast, external videos must be manually played.

Native videos are played within the platform's environment. In contrast, external videos need viewers to exit the platform to watch the video.
And each of these characteristics plays a significant part in improving the platform's user experience.
This makes native videos a good option for the platform and producers who want to flourish on it.
You may collaborate with your entire team for content planning, strategizing, and publishing by using flexible processes and approval rights.
Step 3: Use Illustrated Video
With so many producers competing for their viewers' attention, it's becoming increasingly difficult for brands to penetrate through the noise.
If you want your brand involved, an animated film will assist you in obtaining it. Illustrated videos are compelling when attempting to accomplish bottom-of-funnel objectives or impact sales.
The following are the primary reasons why illustrated videos perform better than other forms of videos:
The use of illustration elicits emotions in the viewers
Google's Doodle is an excellent example of illustration. These adorable cartoons constantly entice us to click on them.
Complex concepts are simplified through illustration
You can quickly demonstrate how mechanisms and processes function using animation in your explainer movies. TED-Ed videos are an outstanding example of using illustration to explain concepts.
Because most of us identify cartoons with happy childhood memories, illustration evokes nostalgia. We get sentimental when we see illustrations.
Producing illustrated videos is relatively inexpensive. One of the primary benefits of employing illustrations in social media videos is that they are less expensive to produce than live pre-recorded films.
Step 4: Make Your target audience Feel Good About Themselves
When making social media videos, remember that your work will appear in people's News Feeds alongside a status update from a family member or a snapshot from a friend.
Make your social media video appealing to your target audience if you want more shares and likes. After all, people always share things that make them appear suitable in front of others.
Facebook's Friend Anniversary video is an excellent example of such a scroll-stopping film. They are entirely appropriate for the situation and are all about happiness!
Step 5: Optimise Videos for Soundless Playback
Don't tell, show. You've probably heard this phrase before, particularly in creative classes. And while it mainly pertains to works such as television, films, and books, it also applies to the development of social media videos.
By showing rather than telling, you allow your audience to experience your story through actions, feelings, and senses rather than explanation or exposition.
Keep this thought in mind when writing screenplays for social media videos. Then, make a social media video without using speech to explain topics.
This is not to say that your social media videos cannot have individuals speaking, but you must guarantee that they deliver the same idea without sound.
Make the main points of your video visible. Because people skimming through their social feeds are unlikely to turn on the sound when watching videos, please don't make your video rely on it.
Step 6: It's Critical to Include Text
Because most people will watch your social media video on silent, you must guarantee that your movies are text-optimized.
This encompasses everything from your select typeface to your video description, captions, and on-screen text. While there are no hard-and-fast guidelines for font selection, it should look good and be simple to read.
Your best friend when watching social media videos is on-screen text. It's a great approach to disseminating knowledge, educating your audience, and helping them comprehend the subject matter of your film.
Your on-screen text will become more engaging if it has animation.
Step 7: Don't Forget About Audio Completely
You shouldn't completely disregard audio because you optimize your social media videos to play without sound.
Make your films function well without sound, but don't completely delete it. If no audio plays when people watch your video with the sound on, you don't want them to assume that your video or their phone is malfunctioning.
Your social media video's audio selection should support its message.
Also, ensure you have permission to use any music you use in your video. A copyright violation against your account would be the last thing you want.
Also Read: How to use social media for your business in 2023
Step 8: Use Thumbnails
According to YouTube, 9 of 10 popular videos use a personalized thumbnail. Make your thumbnails count because they are frequently what your target audience sees first thing when they find one of your videos.
Use intros—we don't mean the lengthy, minute-long intros. You must now create an introduction video that is both brief and captivating.
Within the opening 10 seconds (or fewer) of your video, you should take the necessary steps to capture your viewer's attention.
Quick and engaging videos keep viewers from clicking away out of boredom and give them a positive impression of your channel. Intros on MKBHD's YouTube channel are an excellent illustration of this.
This demonstrates the power of an intense intro video. Unfortunately, some viewers only watch the intros. Your responsibility is to give your viewers something to keep them interested until the end.
Step 9: Add A Clearly Stated Call To Action
Your social media video efforts should have a solid & prominent call to action built into them if you want to see good ROI.
What good is making social media videos for your brand if you need to entice your viewers to take action?
You must first choose the aim or objective you hope to accomplish with the video campaign to build a compelling call to action.
It will be simpler for you to persuade individuals to take action once you are clear on your campaign's objectives.
You can include a variety of CTAs in your social media videos, including:
Learn More

Book right away

Sign Up Now
Use the "Watch More" call-to-action link to connect your users to further videos on your website. A text overlay can be used to insert CTAs in the middle of a video.
Such mid-roll CTAs have a high conversion rate, according to Wistia. Although you may add a CTA at the end of your video using a static image or text overlay and let it play for a few seconds after the movie's actual content concludes if you don't want to disrupt the flow of the video.
Step 10: Make it mobile-friendly
According to data from YouTube, more than 70% of viewing time occurs on mobile devices. People transport their phones around with them like a golden knights.
When they have a free hour, like traveling or standing in line, they are more likely to use their mobile devices.
It's crucial to capture and edit your movie for mobile viewers because most of your views will probably come from mobile consumers.
If you intend to use screen recordings in your social media videos, make sure they are zoomed in and not too small so that even viewers of your content on mobile or tablet devices with small screens can see correctly.
So that viewers can watch without sound, provide auto-captions. Ensure the text overlay is large enough for viewers to read if you include it. Finally, remember that every clip you shoot should be in landscape orientation.
Step 11: Use the right video analytics for your video content
Without analytics, no marketing campaign is successful. The most incredible way to create an effective marketing strategy is to have precise measurement techniques.
Making many social media videos requires measuring your video campaign investments and making data-driven decisions to improve ROI.
To monitor your video output, locate your most popular films, and learn more about traffic sources, views, and total watch time, you can utilize native analytics and Google Analytics.
However, native analytics will only let you evaluate the effectiveness of social channel-exclusive content. You'll need a social analytics tool that offers cross-platform performance comparison to compare your Facebook videos' performance to those on YouTube.
Using Statusbrew's Reports Lab tool, It's easier to see how videos or content posted on various social media platforms grows, as seen in the image below.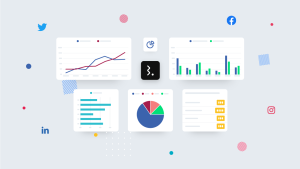 The total number of views, remarks, and shared videos across all platforms can also gauge your overall brand awareness.
How To Engage your posts on Facebook
Make your Facebook post exciting and entertaining if you want people to see it. You may create an engaging Facebook post by following these simple steps:
Make sure a Facebook update is between 40 and 80 characters in length.

Make use of lists in your Facebook copy to draw readers in. For example, it could be a list of advice, concepts, products, etc.

Emojis make posts more entertaining and appealing.

Use Facebook's recommended image sizes. They are:
1,200 x 628 pixels for image posts

1,200 x 628 pixels are required for postings with picture links.

1,080 x 1,920 pixels for stories
Use the required size while sharing images-accompanied links. They are:
Square Photo: 154 by 154 pixels (at least)

Square Photo: 116 by 116 pixels (at Least)

Square Image: 470 x 246 pixels (at a minimum)

484 x 252 pixels (minimum) for a rectangular photo on a page
Try out different media types, such as videos and GIFs.
How can you promote your business on Twitter?
You only have 18 seconds to make an impression on someone with a tweet, so you should make it exciting and interactive.
Use fewer than 280 characters.

Avoid using too many hashtags in your tweets.

Use GIFs.

Utilize the recommended Twitter picture sizes. They are:
Recommended square size: 440 x 220 pixels

Include up to four photos at a time.

Maximum file sizes for pictures and animated GIFs for mobile devices are 5 MB and 15 MB, respectively.
Include other people in your tweets.
How can you create a compelling LinkedIn post?
The advice provided here will assist you in creating an engaging LinkedIn post that quickly increases engagement. The post's title needs to be original, distinct, and precise. Follow these steps: 
Post pictures with your posts. The ideal number of photographs for a position is four to eight.

Images can only be a minimum of 800 by 628 pixels and a maximum of 1104 x 736 in size.

Use the appropriate LinkedIn image format (JPNG, JPG, or GIF images)
Read Also: How to create a website in 2023: A beginner's guide
Tools For Making Videos For Social Media
Knowing the above information, the only duty is to produce those breathtaking social media videos. However, you are not working alone on this.
The finest social media video tools available today eliminate the requirement for hiring a professional filmmaker for marketing efforts. 
Here are some of the most excellent available premium and free video editing programs:
Adobe Spark Video

Biteable

Typito

Animaker
Bonus: Canva is one of the most excellent and popular programs for making video covers.
Conclusion
In fact, according to 66% of poll participants, social listening and analytics boosted the value of organizations in 2020.
It is crucial that you carefully select your metrics because they have the power to make or ruin your campaign.
Selecting a social analytics solution that offers a 360-degree view of your campaign using industry-rich metrics and the metrics themselves is critical.