Email marketing is direct marketing in which you use an email to advertise a product or service. For example, it can assist in informing your clients about new products or special offers.
It can also be essential in educating people about your business or keeping them interested in transactions.
In 2023, email marketing will be an effective method for organizations/ brands to reach customers. However, to be successful with email marketing, there are guidelines for what to do and what not to do.
Read  Also: How to use social media for your business in 2023
Do's of E-mail Marketing
Personalize your emails
You should address your subscribers by name and separate your lists based on their data(age, geographical location, gender, tribe, etc.) to deliver appropriate content or information.
You can say Hello, Precious, Hello David, etc. This makes your reader feel like you have them at heart while writing the e-mail.
Use a catchy hook
Your subject line, usually the first line, is the first thing your subscribers see; you want to make sure it grabs their attention 100% and compels them—more like what they can relate to easily without thinking too deeply.
If your niche is on product marketing, you can come up with an intro like- You can say no to low clicks per post…., the interested reader then wants to know how and try to find out more by reading along.
Keep your emails brief and to the point
Statistics show that humans can pay attention for 8.25 seconds on average. So most people have short attention spans, and it is to your advantage that you ensure your emails are brief and easy to understand.
Don't go about telling the details of what you're marketing, as this will not make your target audience not interested in what you're selling.
Provide value
Suppose you will be sending marketing emails to your subscribers. In that case, offering them something worthwhile, like a limited-time deal, a free guide, or insightful information, is only wise and thoughtful.
Spamming them with unnecessary emails will make them unsubscribe from your emails.
Make your emails mobile-friendly
Your emails should be optimized for mobile viewing as more consumers are seen to go through their emails on mobile devices more often than using their PCs.
This is your UI, and UX enables readers to access your emails through their mobile phones.
Use clear call-to-actions
Give your subscribers a clear and noticeable call to action in your emails. This is to encourage them to take action immediately and without delay. 
Things like "Click to learn more," "Sign up Now," and "Register Now," etc. links your target readers to where they'll take the necessary action.
Read Also: How to create a website in 2023: A beginner's guide
Test your emails
There is room to be inquisitive and explore. Performing experiments with different subject lines, email designs, and calls-to-action to see what works best for your audience is highly recommended to enable proper communication between you and your subscribers.
Know how the KPIs of your emails, such as Click through rates, Conversion rates, bounce rates, etc. This will help you know the true success of your mailing lists.
This can be done through software trackers like Google Analytics, 250ok, HubSpot Sales Hub, etc.
Having talked about the do's, let us take a look at what you shouldn't do(don'ts)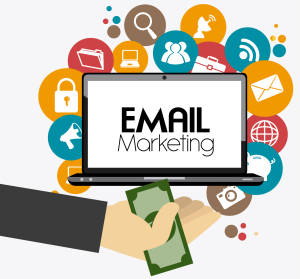 Don'ts of E-mail Marketing
Don't spam
You wouldn't want to have more subscriptions to subscriptions. However, avoid spamming your subscribers with unrelated content or sending too many emails.
They can become disinterested as a result and unsubscribe from your list.
Don't use deceptive subject lines.
Use subject lines that appropriately represent the email's content, and refrain from using clickbait or other deceptive language.
Not only will your subscribers see you as a liar, but it also makes them lose trust in you, which isn't good for business.
Please don't come with something like, This will help you end poverty…. and they end up searching for what helps them end poverty. Don't do that!
Don't buy email lists
It's not only unethical, but it's also illegal in many countries to buy email lists. Furthermore, these lists are often of poor quality and can damage your sender's reputation.
Pay attention to your unsubscribe process
Make it easy for subscribers to unsubscribe if they no longer wish to receive your emails. Failing to do so can harm your sender's reputation and lead to complaints.
Let them go if they wish not to continue to enjoy your services.
Don't use too many images
Every platform has its algorithm. While images can be visually appealing, too many can slow your email load time and make your message less accessible.
This will discourage your target audience, and you will lose clients in their numbers.
Avoid Grammatical Errors
How do you feel when reading articles or write-ups with grammatical errors? Do you read to the end? Of course not!
Spelling and grammatical errors can make your business look unprofessional, so proofread your emails carefully.
Don't send emails at the wrong time.
Only send emails at the right time. Imagine being with family and receiving annoying emails telling you to click a link.
The link may be helpful to you, but it just came at the wrong time. Avoid sending emails during holidays or late at night when people are less likely to engage with your content.
Follow these's and Don'ts if you wish to make the most out of Email marketing. Best of Luck!