An eBook reader is a gadget allowing users to browse electronic files representing books. An eBook reader often has a paperback book-sized, low-resolution, low-glare, black-and-white screen that is only sometimes illuminated.
Depending on who you ask, technology has either reduced the need for reading or made it more enjoyable. If you fall within the first category, you already know about eReaders.
While some could argue that reading a book is the same as reading a digital version, many contend that eReaders have made reading more accessible than ever.
An eBook reader will be slim, light, and have a long battery life compared to a general-purpose computer or smartphone, which is frequently backlit.
EBook readers commonly read various proprietary "eBook" file formats. Some eBook readers can also read documents in other formats, including plain text, PDFs, Word documents, open-standard "ePub" eBooks, and others that let you take notes or sync with other devices.
Read Also: Innovative Gadgets That'll Change Our Future Lifestyle
Some people prefer the "feel" of books, which eBook readers lack. However, they offer a few benefits, like the ability to hold much more than a single paperback ever could and the fact that they are lightweight and portable.
Because of this, they are perfect for reading when traveling, in a favorite outdoor spot, or while on the run.
Many capable eReaders with almost every function you could imagine are available now. However, only some are a good fit for some eReader.
So we've outlined crucial considerations for switching from reading on paper to reading on a screen.
1. Take an eReader's screen size and resolution into account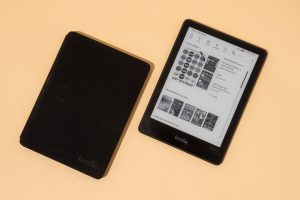 Most eReaders will be between six and seven and a half inches in diameter, like a typical paperback novel or non-fiction book. This enables you to manage the text and page sizes you are accustomed to.
While most devices let you alter, expand, or contract the font size on the screen, the screen is the same size as a conventional book page.
Other adjustable screen features are as follows:
Most eReaders use electronic ink, often known as e-ink, and electronic paper. This combination produces a visual on the screen that resembles reading text on an actual page.
Sharp contrast and low light are two characteristics of e-ink intended to lessen eye fatigue, sometimes brought on by viewing a computer screen.
2. Select an eReader with the required amount of memory
With entry-level versions starting at 4GB (which can carry thousands of books) and up to 32GB, most eReaders have outstanding memory capabilities.
An eReader can store up to 6,000 books in 8GB of storage, so that gives you an indication of how many books it can store. Even the most devoted reader should be content with this for some time.
3. Remember to have audiobook capability if you also want to listen to books
Those purchasing an eReader should know that not all models support audiobooks. An eReader with this unique capability to listen to books would be best.
It's a good idea to carefully check to make sure the gadget not only supports audiobooks but also supports your specific chosen audiobook platform, depending on the manufacturer or model catching your attention.
4. Battery Life of Your eReader
Similar to computers, eReaders have significantly increased battery life. The battery life of even entry-level eReaders, which start at less than $100, is many weeks on a single charge.
Naturally, the battery will drain faster if more functions are used while reading an ebook. For example, the following tasks on your eReader will drain its battery:
Enhanced illumination
Color
Page-turning software
Capacity to use audiobooks
5. Check out product reviews online
Even if it takes time, this step is crucial when selecting an expensive product, especially one subject to frequent upgrades and revisions.
You want to be sure that you're receiving the product at the best price for its sort at the time and that it will perform everything you need.
Reading expert reviews and user-submitted content will yield the most beneficial research results because it offers a variety of perspectives.
In addition, consumer views of view should provide some realism to the worth of the eBook reader, where technology reviewers may be paid to focus on specific characteristics.
Read Also- The latest advancements in VR and AR technology
6. Inquire of others about their eBook usage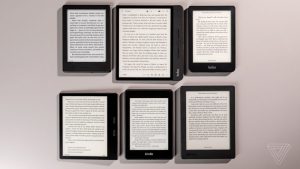 Friends and family members could have suggestions on what to consider before making a purchase. For instance, some readers only let you read books that can be downloaded, while others give you access to the Internet to read blogs and web pages.
Asking those with experience with eBook devices is quicker than doing your research, and most are eager to ensure you don't make the same mistakes they did!
7. Don't make a hasty choice
After your testing mission, returning home and considering your purchase is a good idea. After conducting your study and testing, give it a few days for the best option to come to mind.
Don't let boredom, loneliness, worry, or the pressure of trends influence your decision; because these devices are new and subject to rapid change, they must be the best option for you right now if you're going to spend a lot of money on one.
While some eBook readers may have more bells and whistles than others, a cheaper, more basic model can be a decent first choice if you only need the essentials.
Keep in mind that costs have been lowering drastically in the short period since eBooks were launched, so there is no harm in waiting.
Think about buying a secondhand or refurbished eBook reader. Older versions can be found for much less money and are frequently just as valuable as the ones that succeeded them.
8. Make sure to review the warranty details
It's comforting to know you can return new things without fuss if something goes wrong and learn what happens if you lose any eBooks due to technological difficulties.
9. Connectivity
Do the eBook reader's 3G and WiFi networks work together? It would be best to opt for ebook readers because there's absolute connectivity to download new books.
Is downloading eBooks simple? Do you need to connect to the computer, or is a computer not required as the middleman? If you're buying an eBook reader as a gift for an elderly person who doesn't enjoy "fiddling" with technology, keep this in mind.
eReader Models to Consider
Today, the Amazon Kindle may be the most well-known eReader. It was the first device of its sort and was on sale for $299 in 2007.
The basic Kindle is available for roughly $90, while the more luxury model costs $250. The Nook, which Barnes & Noble debuted in 2011, is another option.
This gadget was advertised as a tablet, a media player, and not only an eReader. The Glowlight Plus and the Glowlight 3, now offered in two versions, have a suggested retail price of $199 and $119, respectively.
In 2010, Kobo released its eReader, initially positioning it as a less-priced alternative to the Kindle. Rakuten expanded the eReader and bought a majority ownership in Kobo, Inc. in 2011.
There are now four Kobo eReader models available. Although the Apple iPad's iOS can function like one, it is not necessarily an eReader.
The iPad can access any book supported by the Kindle, Nook, and Kobo ecosystems, in addition to being a media player and computer.
If you're looking for an eReader, many options are available, so you should find one that fits your budget and has practical features you'll appreciate.
Conclusion
When selecting an eBook reader, there are many factors to consider. One crucial point to remember is that choosing an eBook reader is similar to selecting many other electronic devices and cars, depending on your intended use.
There is no right eBook reader for everyone, and different features can make a huge difference in your decision.