The MacBook Air M2 is the finest laptop for most people because of its lightning-fast performance, slim design, and low price, while the 14-inch and 16-inch MacBook Pros offer more ports, good displays, and even more power for creative workers.
However, the superb 14-inch MacBook Pro chassis lacks the extra ports and power that serious creatives might require. Additionally, it stays true to its moniker with a lightweight, portable design that weighs only 2.7 pounds and is 11.3mm thick. The transition from Apple's Retina to its Liquid Retina technology makes images and videos pop slightly more.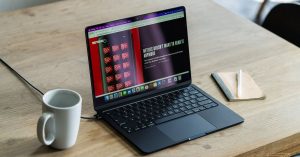 Read Also: The best smartphones for mobile gaming in 2023
Additionally, the Magic Keyboard has the same fantastic feel as any current MacBook, with enough travel and feedback to allow us to quickly type for extended periods.
The MagSafe charger, which attaches and detaches with a quick magnetic snap to make charging a little easier—and prevents your MacBook Air from striking the ground if someone trips over the charging cable—will be welcomed back by die-hard Mac fans.
Since only two Thunderbolt 4 USB-C ports are on the Air, the MagSafe connection also leaves those ports open for accessories. The new MacBook Air's enhanced appearance and speed come at a cost; however: its starting price of $1,199 is $200 more than that of the MacBook Air M1 There are almost always rumors about Apple's upcoming release because the secretive company constantly works to improve its current product lineups.
For example, the previously-speculated redesigned MacBook Air was unveiled in June 2022 at Apple's WWDC event. The M2 MacBook Air didn't feature the colorful redesign that was initially anticipated. Still, it did come with MagSafe charging and a notched display. The details below demonstrate what was allegedly in the updated M2 model, which might still appear in the upcoming 15-inch model that is currently speculated.
MacBook Air M2 Chip Model Full Specifications
Height- 0.44 inch (1.13 cm)


Width- 11.97 inches (30.41 cm)

Depth- 8.46 inches (21.5 cm)


Silver

Starlight

Space Gray

Midnight

13.6-inch (diagonal) LED-backlit display with IPS technology;1



2560-by-1664 native resolution at 224 pixels per inch with
support for 1 billion colors

8-core CPU with 4 performance cores and 4 efficiency cores
16-core Neural Engine
100GB/s memory bandwidth

Two Thunderbolt / USB-4, mic

Up to 18 hours Apple TV app movie playback
Up to 15 hours wireless web
52.6-watt‑hour lithium‑polymer battery


30W USB-C Power Adapter (included with M2 with 8-core GPU)
35W Dual USB-C Port Compact Power Adapter (included with M2 with 10-core GPU and 512GB storage, configurable with M2 with 8-core GPU)
USB-C to MagSafe 3 Cable
Fast-charge capable with 67W USB-C Power Adapter

Hardware-accelerated H.264, HEVC, ProRes, and ProRes RAW
Video decode engine
Video encode engine
ProRes encode and decode engine

Price Range- $1199- $1600

Design
The new MacBook Air was rumored to have a similar design to the 24-inch iMac. However, it ultimately appeared identical to the updated 14-inch and 16-inch MacBook Pro models.
One with a constant width was given in exchange for the tapered case. Though thicker than the thinnest spot, it is overall lighter than the initial design. Just the right amount of thickness is present for the USB-C connections. Apple only announced four color options when the company anticipated using the same palette as the iMac.
Reports also have it that the borders surrounding the new MacBook Air's display would be off-white. However, they are instead all-black, just like the MacBook Pro.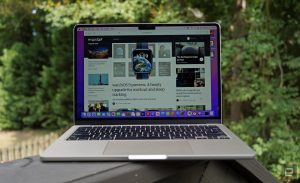 Read Also: Samsung Galaxy S23 Review
Display
The M1 MacBook Air has a 13.3-inch display, which has been increased to 13.6 inches in the M2 variant. If reports are accurate, a larger model's display will grow to 15.5 inches.
The display is anticipated to stay 13.3 inches and may use a mini-LED backlight. Apple uses the comparatively new technology in its 2021 MacBook Pros and 12.9-inch iPad Pro models. Mini-LED may still be added to the 15-inch MacBook Air even though it wasn't in the 2022 iteration.
Because there are more dimming zones and light sources with mini-LEDs than with LED backlights, the illumination is more evenly distributed. Though not as effective as OLED, it is still much more effective than LED. Mini-LED backlighting from high-end products might filter down, but ProMotion won't. Although this feature enables smooth animations and scrolling at a variable refresh rate of up to 120Hz, it is probably too costly to be included in Apple's low-cost laptop.
The size of the monitor is still the subject of persistent rumors. However, according to a December 2022 update, the new MacBook Air's monitor size would be 15.5 inches rather than 15.2 inches.
Processor
M2 marks the introduction of Apple Silicon's second version. This processor family will probably dominate Apple's Mac lineup after a few iterations, so a 15-inch model with that chip will probably be released in 2023.
The Media Engine in the M2 allows for better video editing and makes it up to 18% quicker than the M1. However, the one-monitor restriction still applies because it does not affect Thunderbolt's powers.
It is doubtful that Apple would include an M2 Pro in the 15-inch MacBook Air model since the laptop is a consumer-grade product. In addition, the MacBook Air is designed to be fanless, so the CPU that can be used may also be restricted.
Webcams and ports
Two Thunderbolt ports, a MagSafe connector, and a headphone jack, are part of the redesigned MacBook Airports. These ports are the same ones used in the more prominent 15-inch model. The two Thunderbolt/USB 4 ports can charge the MacBook Air quickly and enable data transfers up to 40Gbps. In addition, high-impedance headphones are compatible with the earphone jack.
The M2 image signal processor upgrades the webcam to 1080p with a clear picture. Although Apple omitted Center Stage, it did include a tool in macOS Ventura that allows the iPhone camera to function as a webcam on the Mac.
Price
To prevent its best-selling MacBook from being priced out of the education market, Apple left the M1 MacBook Air on the market for $999. Starting at $1,199, the 13.6-inch M2 model has 256GB of storage and 8GB of RAM.
The price of the rumored 15-inch MacBook Air would be slightly higher than that of the current iteration. However, even though the starting price might be as high as $1,399., it will be marketed as the only fanless MacBook with a sizable monitor.
Battery life
The MacBook Air M2 had a reasonably powerful battery life and frequently lasted all day without recharging. Nevertheless, it finished our more demanding 4K video playback test in a reasonably short five hours and 21 minutes, slipping behind the MacBook Pro M2 by about 45 minutes.