The finest laptops for making music may be more expensive. Still, you'll save time and money in the long run because you'll be able to work swiftly and effectively with little danger of being slowed down by freezing or crashing.
Everything from processing speed and memory to screen size and portability has been considered.
Even though all of these laptops are excellent for music production, if you're a multi-talented person, you should compare them to other creative computers.
You can choose from the finest laptops for music production listed below. This list has been carefully compiled utilizing our knowledge, contacts in the field, and years of review experience.
Now let's begin
Also Read: 6 best laptops for graphic design in 2023
The Best laptops and PCs for recording music in 2023
The best laptops and PCs for recording music in 2023 include:
Apple MacBook Pro 14 2023

SPECIFICATIONS
Apple M2 Pro CPU
16-core integrated GPU for graphics
32GB of unified memory.
Liquid Retina XDR, 14.2-inch,
3,024 by 1,964-pixel display
2TB SSD for storage
We still believe that the MacBook Pro 14-inch is the greatest laptop for making music. A large budget is necessary for this.
Even the base model of this equipment can handle the most difficult tasks with reasonable ease.
Therefore, if you require a lot of power from a compact laptop, a screen that will let you see your creative work in all its glory, last all day, and is highly portable, finding a better option than the 14-inch MacBook Pro would be challenging.
Apple MacBook Air M2 (2022)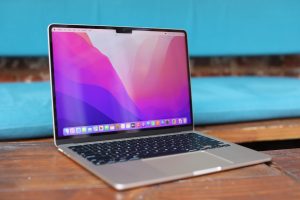 SPECIFICATIONS
Apple M2 (8-core) CPU
Graphics: 10-core integrated GPU
16 GB Unified LPDDR5 RAM
Liquid Retina display with a 13.6-inch screen;
Storage: 1TB SSD (expandable).
The brand-new MacBook Air, released in 2022, provides excellent value for musicians.
While it is substantially less expensive than many Windows-based and the MacBook Pro 14 above, it delivers a sleek, thin, light design and exceptional performance because of its new M2 chip.
This laptop is great for music production despite lacking the MacBook Pro's mighty processing power.
It can run all programs like the more expensive MacBook Pro.
The fact that the MacBook Air has no fans is another advantage.
As a result, it is silent when in use, which is a significant benefit if you're using microphones to record.
However, few ports are available, so you must buy a dock.
The Dell XPS 17 (2021)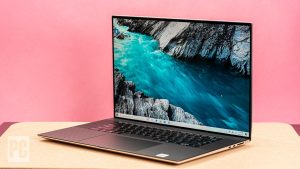 SPECIFICATIONS
CPU: Intel Core i9-11980HK, up to 11th generation.
Up to a 6GB GDDR6 NVIDIA GeForce RTX 3060 graphics card.
Up to 64GB DDR4-3200MHz of RAM17.0″ FHD+ (1920 x 1200) display 17.0″ UHD+ (3840 x 2400)
InfinityEdge Non-Touch Anti-Glare 500-Nit Display 500-Nit InfinityEdge Touch Anti-Reflective
Up to 4TB M.2 PCIe NVMe storage
The Dell XPS 17 is a laptop for you, regardless of whether you prefer Windows laptops to Macs or don't care and need a big display for your music creation.
17-inch computers are typically bulky and difficult to transport. Nevertheless, Dell created a breathtakingly thin, light large-screen laptop with the XPS 17.
The Intel Core i9 processor, XPS 17, has 64GB RAM and an Nvidia RTX 3060 GPU.
This implies that virtually any music production program will function flawlessly on it and shouldn't experience any performance concerns.
Although pricey, the superior performance and design will make it worthwhile for many people.
A 13-inch MacBook Pro (M2, 2022)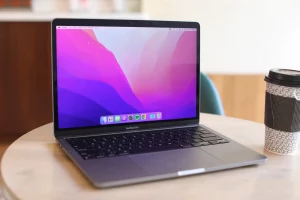 SPECIFICATIONS
CPU: Eight-core Apple M2
Graphics: 10-core integrated GPU
8GB – 24GB of RAM
a 13.3-inch display with True Tone technology and a 2560 x 1600 resolution
2TB to 256GB of SSD storage
The newest M2 chip in the MacBook Pro makes it one of the most potent models yet.
Therefore, even if your music production software requires a lot of resources, everything will still function swiftly and without a hitch.
And you'll be even happy with this MacBook's quick performance if you edit huge files, like videos. The MacBook Pro 13-inch (M2, 2022) also has a deliciously lengthy battery life.
Additionally, it is nicely portable and has a 13-inch screen.
There is a tradeoff here, although you might want a larger screen to examine the user interface of your music composition program in greater detail.
Also Read: 6 best all-in-one PCs for 2023
The Asus ROG Strix Scar 15 (2022)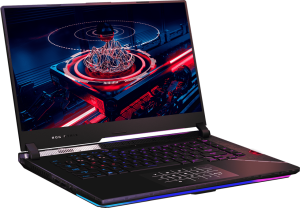 SPECIFICATIONS
CPU: 14-core Intel Core i9-12900H
Intel Iris Xe and Nvidia RTX 3070 Ti 8GB graphics
16GB to 32GB of RAM
5.6-inch, 2,560 by 1,440, 240Hz, IPS LCD screen
Up to 2TB of SSD storage
The Strix Scar 15 from Asus's Republic of Gamers checks all the necessary boxes for high-end gaming laptops, which can occasionally be decent choices for music production because of their great processing capabilities.
It delivers the power creators need with an Intel i9 processor and 16GB of RAM base specification.
It does focus firmly on the gamer style with lots of lights, so it's not one to consider if you want something discreet.
The battery can last 10 hours of video playing, and the laptop is light enough to be used as a mobile workhorse for content creation.
You also have good connectivity options: two USB-C ports (one Thunderbolt 4), two USB-A ports, HDMI, ethernet, and a headphone jack.
A 16-inch MacBook Pro (2021)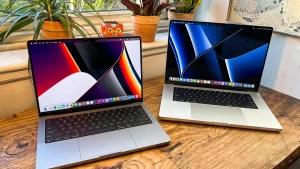 SPECIFICATIONS
CPU: 10-core Apple M1 Pro and 10-core M1 Max
Integrated 16-core – 32-core GPU for graphics
RAM: 64GB maximum
Liquid Retina XDR 16.2-inch display
8TB maximum storage
While the MacBook Pro 14-inch is the greatest laptop for music production because of its portability, if you'd prefer a larger screen, its older 16-inch brother delivers essentially the same hardware and, in addition, has somewhat superior battery life.
Some people find working on a larger screen more comfortable, especially on numerous tracks simultaneously.
This is a superb laptop for music creation that, like the MacBook Pro 14 at number one, should be capable of handling even the most difficult tasks.
It has many ports, great speakers, and a great microphone. However, it costs more than the 14-inch model.
Studio for Surface Laptop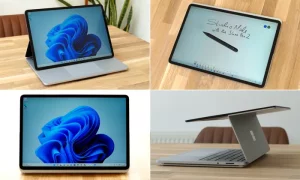 SPECIFICATIONS
CPU: 11th generation Intel Core H35 i7-11370H, up to four cores.
Laptop with NVIDIA GeForce RTX 3050 Ti or Intel Iris Xe graphics
32GB to 8GB of GPU RAM
Screen: 14.4-inch, 3:2 (2400 x 1600)Touchscreen system Sense Flow
2TB to 256GB of storage
Microsoft's Surface Laptop Studio is a great example of how far the company has advanced in laptop design. This high-end smartphone features a gorgeous touchscreen and lots of power inside.
Additionally, it has an excellent battery life, which is advantageous if you edit or record while on the go.
Since it's a Microsoft product, Windows 11, in particular, is featured prominently.
Any music creation software you want to use will work without a hitch, and given the size of this laptop, the built-in speakers are excellent.
Although it might use a few extra ports, this is still fantastic for music production.
The Asus ZenBook Pro Duo 15 OLED (UX582L.)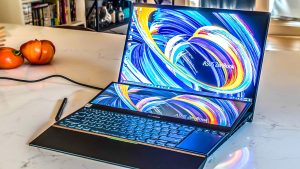 SPECIFICATIONS
CPU: Intel Core i7-i9 10th generation
Nvidia GeForce RTX 3070 for graphics
RAM: 16GB
Screen: 14-inch 3840 x 1100p anti-glare IPS secondary display; 15.6-inch 4K OLED (3840 x 2160p) touchscreen, 0.2ms, 440 nits
2TB to 256GB of SSD storage
The Asus ZenBook Pro Duo 15 UX582L might be the ideal high-end laptop for music production.
It has a distinctive design, a second screen above the keyboard, and some potent components, such as Core i7 or i9 Intel processors.
With music production software, this touchscreen can add further controls, like sliders for mixing recordings.
It adds adaptability to the Asus ZenBook Pro Duo 15 UX582L that other laptops lack. Both screens are OLED, so they both look gorgeous.
But not everyone will appreciate the novel design, which does make the Asus ZenBook more expensive.
The Asus ZenBook Pro Duo 15 UX582L's distinctive style is only for some, and it does increase the cost of the laptop over the other models on this list.
Also, battery life is affected if you intend to use this. At the same time, while traveling, be sure to have a power supply bank with you.
2021 LG Gram 17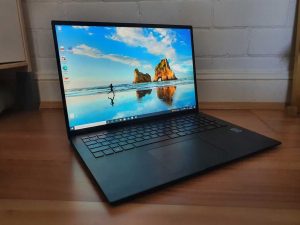 SPECIFICATIONS
CPU: Intel Core i7 of the 11th generation.
Iris Xe Graphics from Intel
16GB LPDDR4X RAM
17-inch WQXGA (2560 x 1600) IPS LCD
Up to 2TB NVMe SSD for storage
Another excellent option for a large-screen laptop for music creation is the LG Gram 17.
Due to the increased project visibility, working with numerous tracks and intricate arrangements is much simpler.
The LG Gram 17 challenges the idea that 17-inch laptops must be large and cumbersome, much like the Dell XPS 17 did above.
In actuality, the LG Gram 17 weighs less than many smaller laptops. Both performance and battery life are good.
Although it lacks the XPS 17's luxury feel, it is surprisingly portable, given its size.
Also Read: The future of laptops: trends and predictions for 2024
Microsoft Surface Laptop 4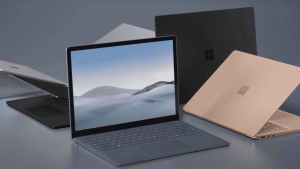 This powerful laptop is a fantastic alternative to a Studio.
SPECIFICATIONS
CPU: AMD Ryzen 5/7 or Intel Core i5/i7 Graphics: 201 PPI at 2256×1504 or 2496×1664
RAM: 32GB maximum
10-point multitouch display PixelSense 13.5″/15."
Storage for displays: up to 1TB SSD
The Microsoft Surface Laptop 4 could be more innovative in any one area. Yet, it accomplishes what it does with great efficiency and performance.
It has been replaced with the improved Microsoft Surface Laptop Studio, ranked seventh on our list.
However, the Surface Laptop 4 offers a more affordable option to the Studio while still capable of music creation.
Depending on the processor you select, there is a choice of 13.5 or 15-inch screens and customizable RAM and storage.
Even while the base specification can easily handle any light-to-medium musical work, the more powerful Ryzen processor is recommended for music creation because it can be resource-intensive.
Additionally, the speakers are more than adequate, which is a significant benefit.
However, you might need to purchase a dock in addition to it due to the need for more ports.
Features of an excellent music-making laptop
RAM
The finest music production laptops require potent computers with a multi-core processor and lots of RAM.
This is since the required software for music recording and production, like other creative endeavors, can be demanding – especially for multi-track tracks.
We advise pairing this with a sizable SSD to provide much storage space for your audio tracks, especially uncompressed ones.
Storage
To prevent running out of space, you'll need at least.
You'll need at least 512GB of storage to ensure you don't run out of space, but if you can stretch to 1TB, you'll appreciate the extra breathing room.
Having excellent speakers is essential.
It's crucial to listen to your track through as many different audio systems as possible, even if you connect to external speakers or headphones, to understand how your frequency spectrum is portrayed in various arrangements.
Additionally, it simplifies life if you frequently travel and want to repeat your track aloud.
Last, you'll want to ensure your laptop has many connections to connect additional gadgets without a hub.
Once more, this reduces the hassle of generating while on the go. However, check the rest of your equipment first, determine which connections you'll need, and possibly invest in a dock.
Read Also: How to Select the right monitor for your Laptop or PC
Windows vs. Mac?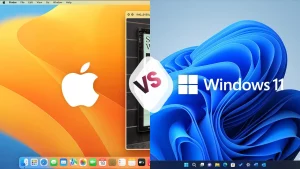 If money is no object, a Mac is undoubtedly the best choice for producers; as a result, MacBooks are ranked first and second in our ranking.
The out-of-the-box software on Mac is far superior to that on Windows, and MacBooks are designed for audio creation.
However, if the price is an issue, note that Windows laptops are often far less expensive than MacBooks.
The best thing to do if you're on a tight budget, is to consider your system requirements, investigate audio optimization, and settle on one of the Windows models we've listed above.
Additionally, choosing Windows has at least one significant advantage: you may upgrade your computer, increase your RAM, and boost your hardware to meet your production needs.
How much RAM do you require to create music?
The finest laptops for music production must have enough RAM to meet all your performance requirements. To meet your performance needs, the best laptops for music production need a sufficient quantity of RAM.
We'd recommend at least 16GB, though real beginners might be able to get by with 8 GB.
RAM is the machine's quick, instantly available working memory, significantly impacting performance.
You need as much headroom as possible if you're using many sample libraries, generating a lot of audio, or recording and overdubbing.
Advanced producers will need more than 64GB RAM while working on extensive symphonic tracks and heavily utilizing plugins and additional performance-intensive software.