The best all-in-one computers, or "AiO," give you powerful computing capability in a streamlined way so that you don't require the power and superior customization of a big desktop tower.
An AiO only requires you to connect a few cables, and you're ready to go.
This is because it has a total CPU/graphics chipset or card, monitor, and speakers, all inside a stylish, screen-shaped chassis that sits on your desk. 
Even though they're less common than they once were, they're still a fantastic choice for those who want a computer that can do various tasks. 
The best all-in-one PCs are robust, versatile devices performing well for work and leisure.
The features that constitute a functional, durable computer in terms of specifications include the processor, RAM, and graphics, not just for gamers but for regular users—office workers, internet users, and students around the globe.
Also Read: 10 Benefits of using a desktop PC over a laptop
The best all-in-one PCs for 2023
We looked at well-known AiO PC manufacturers, configurations, and typical usage patterns to determine the best all-in-one computers. 
Reviews and suggestions for the top all-in-one computers
1. Apple iMac M1 24-inch
The lightweight M1 chip provides excellent performance, and Apple's engineering is difficult to match.
Specifications
CPU: 8-core Apple M1 processor

7- to 8-core GPU

8GB to 16GB of integrated RAM Integrated Memory

24-inch 4.5K Retina display; 

up to 2 TB of storage

2 USB 4/Thunderbolt, 2 USB 3, and 1 Type-C port

Quick M1 CPU

Review
The Apple 2021 iMac, which uses the company's M1 processor, is the best if you need an all-in-one PC with the power to experiment with practically anything. 
The iMac's polished and appealing appearance results from Apple's exceptional engineering and design abilities. 
It is sleek, slender, and colorfully lively. The M1 can handle it whether you're just browsing the web, working from home, or starting to create content. 
One of the most stunning screens you'll discover on an all-in-one is its 4.5K Retina display. Additionally, it has Apple's Magic Mouse and Keyboard, which are excellent built-in accessories.
You must unpack it and plug in one cable to get it going.
The port choices are quite constrained because Apple adheres to its minimalist aesthetic, which is the one drawback. 
There are only two Thunderbolt/USB 4 connectors on the base iMac. The same is included in the more expensive option, in addition to two USB 3 connections, all of which are USB-C. 
You'll need a USB-C hub to connect legacy devices or conventional USB drives to this.
Also Read: Lenovo Legion Tower 5i Review
2. HP Envy 34-inch
Specifications
Intel Core i7-11700 CPU

GeForce RTX 3060 GPU

RAM: 32GB

Display: 34-inch Ultra Widescreen IPS (5120 x 2160) display

SSD storage of 1 TB.

Ports: 2 USB Type-A 5 Gbps, 1 USB-C SuperSpeed, 4 USB Type-A SuperSpeed 10 Gbps, and 2 USB Type-A 4/Thunderbolt 5 Gbps Gigabit Ethernet

WiFi 6, a headphone/microphone jack, and a 3-in-1 card reader are included.

Review
If gaming is your priority, you shouldn't opt for an all-in-one PC.
All-in-ones tend to be used for more casual applications, whereas AAA PC games demand potent graphics. 
Thanks to a potent top-of-the-line configuration with an Nvidia RTX 3060 GPU, the HP Envy 34 is one of the few all-in-one computers allowing you to play most PC games on medium-to-high settings. 
This computer has a powerful enough core to run graphically amazing games like Red Dead Redemption 2, thanks to its 11th-Gen Intel Core i7 processor, 6GB of GDDR RAM, and a capable modern GPU.
The 34-inch 5120 x 2160 Ultra widescreen IPS display covers 98% of the DCI-P3 color gamut, enabling it to display your games and movies in their truest, most vibrant colors. 
HP has included a 16MP webcam that can be attached for communication. All-in-ones tend to be used for more casual applications, while AAA PC games demand a lot of graphics. 
HP includes a 16MP webcam for communication that can magnetically attach to any location on all four edges of the screen, allowing it to fit into any layout without being included.
Additionally, the Envy 34 has some upgradeability compared to typical all-in-one computers, including two additional RAM slots for adding memory and M.2 drive slots for adding storage.
Additionally, there is a good variety of ports, including USB Type-A and Type-C connections. 
This very competent system can also be a stylish gaming setup and perform well for office tasks and content creation.
3. Microsoft Surface Studio 2
Specifications
Core i7-7820HQ from Intel; GeForce GTX 1060 or 1070 from Nvidia

16 or 32 GB of RAM

28-inch, 4500 x 3000, 10-point multi-touch PixelSense display SSD storage for displays of 1 or 2 TB

Ports: Gigabit Ethernet, 4 USB 3.0, SD Card Reader, 1 USB-C, and Headphone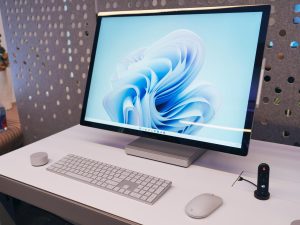 Review
Although being one of the older models we looked at and could be better, the Microsoft Surface Studio 2 will be the ideal tool for visual artists seeking an all-in-one.
The base model alone costs more than $3,500, so this is a computer for professionals. But in exchange, you receive a unique drawing and photo editing computer. 
Studio 2 can be used as a digital drawing pad or to sit upright like a monitor.
According to critics, the 28-inch display is individually color calibrated, has 99 percent sRGB coverage, and ranges from 96.9 to 98 percent DCI-P3 color gamut. 
The Surface Dial, an add-on device that enables you to change settings like brush size and hardness while working instantly, and the Surface Pen, which is included with the computer, are both made to operate with the display primarily.
The Surface Studio 2's Intel Core i7-7820HQ and Nvidia 10-series GPU are getting old and out-of-date after four years, especially given its astronomical price. 
However, this is the only desktop that can perform the same tasks. That might be sufficient to draw in certain photographers and graphic artists.
Also Read: 6 best laptops for graphic design in 2023
4. Inspiron 27 7000 All-In-One
Dell Inspiron 27 7000 can handle just about anything you can throw at it, despite not being designed for intensive graphics or photo editing.
Specifications
Intel Core i7-1165G7 CPU

Nvidia GeForce MX330 GPU

16 or 32 GB of RAM

Storage: 512 GB to 2 TB Display: 27-inch 1920 x 1080 touch display

Gigabit Ethernet

1 USB 3.1 Gen 2 Type-C, 1 USB 3.1 Gen 1, 1 USB 2.0 with support for Power on/Wake-up, 1 USB 3.1 Gen 1 with PowerShare

1 Microphone/Headset Jack 

Review
It boasts WiFi 6 (which, if your router has it, is lightning-fast), a lot of RAM, and a discrete yet power-efficient GPU. 
It also includes a tonne of connectors you can link into, including HDMI in and out, so you can connect a second monitor or use it as a monitor for a gaming console. 
It may be challenging to fit on some compact desks because the lawn chair-style base takes up more space than is necessary.
It is only marginally costlier than the base iMac, starting at under $1,500. 
Dell's product should keep up with your daily browsing and workplace needs for a long time.
5. HP Essential 27-inch All-in-One
Specifications
AMD Ryzen 7 5700U CPU

AMD Radeon Graphics, 32GB of integrated RAM

1920 by 1080 (1080p) resolution touchscreen

1TB M.2 SSD with 1TB HDD for storage

2 SuperSpeed ports USB Type-A, two USB 2.0 Type-A, one HDMI Out, one Gigabit Ethernet, and one Headphone/Microphone are included.

Review
Every system on our list, excluding the Apple iMac, has an Intel processor. 
The HP Pavillion 27-inch has a powerful Ryzen 7 5700U processor and a huge 32GB of RAM, making it suitable for all types of demanding creative work. 
With 2TB of HDD space, a 1920 x 1080 touchscreen, and a 1080p front-facing camera integrated into the bezel for all those Zoom meetings that might have been emailed, the system performs admirably compared to the other AiOs on this list. 
Other variants are available, allowing some pricing and specification flexibility, with 512GB SSD in place of 1TB and 16GB RAM in place of 32GB.
Also Read: How to upgrade your laptop or PC components for improved performance
6. HP Chromebase AIO22 
Specifications
Intel Pentium Gold 6405U as the CPU

Intel UHD Graphics, 

4GB of integrated RAM

Display: IPS touchscreen with 1920 x 1080 resolution

Memory: 64 GB

2 USB Type-A SuperSpeed ports Pros: Headphone/microphone, 10 Gbps, 2 USB-C 5 Gbps

Review
The Chromebase is the epitome of a low-cost computer, sporting a weak Intel CPU, only 4GB of RAM, and 64GB of storage. 
This device will only be effective for gaming or demanding office tasks if it runs Chrome OS. 
But anything involving light online browsing is what it excels at. 
It might make an excellent kitchen computer or something you can show your children without worrying too much about them damaging it. 
Due to Chrome OS, Windows PCs won't be as easily infected with common viruses and adware, and curious internet users won't be as likely to install arbitrary software from dubious websites.
Our selections cover various use cases, from word processing and casual web browsing to creative professionals and gaming.