The new normal is working remotely from home, the coffee shop, and everywhere.
Suppose your startup encourages remote or hybrid working, and you want a laptop that fits your lifestyle. In that case, we've got you covered.
There is currently a working-from-home laptop to suit your needs, whether you want something robust and significant, firmly rooted in the Mac ecosystem, very portable, or something in between. 
It's important to note that your business laptop may require coordinating peripherals (business keyboards and mouse and the best business monitor.
Also, the best standing desk, printers, office chairs) and coordinating services, to which we've paid particular attention in this list article.
Read Also: Lenovo Legion Tower 5i Review
The best laptops for remote work in 2023
Some ideal laptops to use while working reinclude; 
1. Apple's 16-inch MacBook Pro (2023)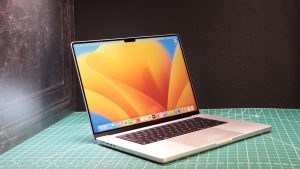 Apple's best laptop designed for artists.
SPECIFICATIONS
CPU: 12-core Apple M2 Pro and 12-core Apple M2 MaxUp to 38-core integrated GPU for graphics

RAM: unified memory of up to 96 GB.

16-inch Liquid Retina XDR display with a resolution of 3456 x 2234 (mini-LED, 1,000 nits of continuous brightness, wide color P3 gamut,.motion-capture technology)

512 GB – 8 TB of SSD storage

3

Thunderbolt

4 (USB-C) ports

HDMI and SDXC card

Bluetooth 5.3

Wi-Fi 6E (802.11ax) connectivity.
ADVANTAGES
With its silicon chips, Apple continues to push the limits of speed and effectiveness, and this machine delivers the newest and greatest M2 chipsets. 

With a battery life of an impressive 20 hours, you could work for a few days without recharging.

This device is an improvement on the MacBook Pro 16-inch (2021) model rather than a redesign. 

Three USB-C Thunderbolt 4 connections, an HDMI port with 8K @ 60 Hz capability, an SDXC card slot, and an audio jack are all included. 

The 16.2-inch Liquid Retina XDR screen, which is the best in its class and has 120 Hz ProMotion adjustable refresh rates, is breathtaking.

The base model M2 is compelling and reasonably priced for what you get. 
Like many Apple devices, there are alternatives to boost performance but be prepared to spend a hefty price for those upgrades.
2. Dell XPS 17 (2022)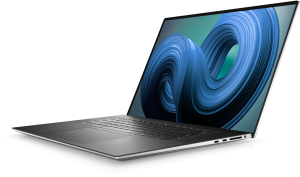 SPECIFICATIONS
CPU: 13th Generation Intel® CoreTM i9-13900H, 12th Generation Intel® CoreTM i5-12500H, and 12th generation Intel Core i9-12900 HK with vPro.
Graphics: NVIDIA GeForce RTX 4080 with Intel UHD GraphicsScreen: 17″, FHD+ 1920 x 1200, 60Hz, Non-Touch, Anti-Glare, 500 nits, InfinityEdge – 17.0″, RAM: 8GB, 1x8GB, DDR5 – 64 GB, 2 x 32 GB, DDR5

17.0″ UHD+ (3840 x 2400) InfinityEdge 500-Nit InfinityEdge Touch Anti-Reflective Display

Storage: 8 TB (2 x 4 TB), Solid State Drive, M.2, PCIe NVMe, 512 GB, M.2, PCIe NVMe
Ports: 1 Universal audio jack, 1 SD card slot, 4 Thunderbolt 4 (USB Type-C) with DisplayPort and Power Delivery ports.
Connectivity: Bluetooth 5.2 and Intel Killer Wi-Fi 6 1675 (AX211) 2×2.
ADVANTAGES
You may work through the day in comfort and luxury even though it may not have powerful gaming specs. 

The Dell XPS 17 is a stunning device with a big 17-inch screen.

But it's more than a stylish device; it has power hidden inside.

With options for 12th and 13th Gen Intel processors and up to 64 GB of DDR5 RAM, it has enough power.

This device looks and feels fantastic because of its aluminum chassis and frame, ultra-slim bezels, and carbon fiber palm rest. 

It is more portable than other options on our lists, but it isn't awkward in any other way. 

When you're away from a desk and don't have your mouse, the huge trackpad on a Windows laptop is also among the best.

When you consider what it is powering, the battery life is excellent, clocking in at 10+ hours for mild workloads. 

Four USB-C Thunderbolt 4 ports, a full-sized SD card slot, and an audio jack are all located along the edge of the device.
3. Lenovo ThinkPad T16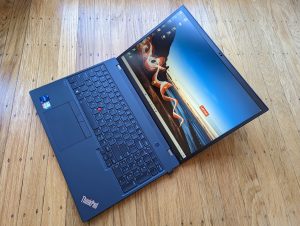 This is the ideal laptop for data entry.
SPECIFICATIONS
CPU: Core i7 or aboveNVIDIA GeForce MX550 2GB GDDR6 maximum for graphics
Storage: 48GB RAM is possible (16GB soldered and 32GB SO-DIMM). 
Graphics: DDR4-320016-inch, 16:10, 1920×1200 screen up to 2TB M.2 2280 SSD (one disk) of storage
Ports: Two USB-A 3.2 Gen 1 ports, an RJ-45 port, two Intel Thunderbolt 4 ports, one HDMI 2.0 port, a headphone/mic combination port, and a SIM card slot.
Connectivity: Fibocom L860-GL-16 4G CAT16, Bluetooth 5.1 or later, Intel Wi-Fi 6E AX211 2×2 AX, 4G lite.
ADVANTAGES
The T16, the newest laptop in Lenovo's ThinkPad T series, provides a pleasurable working experience thanks to its gorgeous display, long-lasting battery, fantastic keyboard, and robust construction.

For individuals who must examine and deal with enormous volumes of data, the ThinkPad T16 will be a favorite.

Its large 16-inch 16:10 display adds more screen space in spreadsheets and papers, allowing for a few extra rows of reading space. 

When you combine that with a complete keyboard and numpad, you have a computer designed for data entry, accountants, and those needing to work with lots of data simultaneously.

The T16 is ready for adventures beyond your workplace or couch because it has passed MIL-STD 810G durability testing and was built for toughness.

Along with ThinkShield, a camera shutter, fingerprint reader, Windows Hello for facial recognition, and Self-Healing BIOS, Lenovo has also integrated some extraordinary security measures.

The Lenovo ThinkPad T16 will satisfy the needs of many people seeking a fantastic Work from the Home laptop because it is well-balanced in size and weight and provides a wealth of features.
Also Read: The future of laptops: trends and predictions for 2024
4. HP Elite Dragonfly Chromebook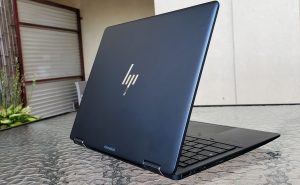 This Is the best Chromebook for businesses.
SPECIFICATIONS
CPU: Intel Core i3-1215U or Core i7-1265U vPro, both from the 12th generation.
Graphics: Iris Xe graphics from Intel 
Storage: 8GB – 32GB of RAM
Display: 13.5″ Touchscreen Anti-Glare WLED+LBL UWVA 1920×1280, 400 nits 128GB to 512GB PCIe NVMe SSD for storage
Ports include two Thunderbolt 4 USB-C ports, one SuperSpeed USB Type-A port, one DisplayPort 1.4 port, one Stereo headphone/microphone combo jack, and one HDMI 2.0 port.
Connectivity: Bluetooth 5.3 and Intel Wi-Fi 6E AX211 (2×2).
ADVANTAGES
If you're looking for a business-grade computer, consider this one. 
HP allows IS/IT departments to provide multi-layered protection for employee gear by providing 12th Gen Intel vPro processor solutions.

It has a maximum i7-1265U processor capacity,

With 32 GB of RAM, up to an i7-1265U processor, and Iris Xe graphics, the HP Elite Dragonfly Chromebook has more than enough processing power for all-day use. 

HP offers a one-year subscription to Parallels for Chrome OS for individuals who still need to use outdated Windows applications. 
Despite being more expensive at the high end of the SKU range than its Windows competitors, this laptop has many advantages that make it a strong candidate for use as a work-from-home laptop.
5. Asus ROG Strix SCAR G834JY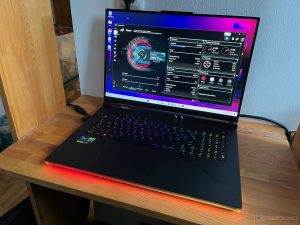 SPECIFICATIONS
CPU: Intel Core i9-13980HX13th generation NVIDIA GeForce RTX 4090 laptop
Graphics: GPU for graphics32 GB DDR5 RAM240Hz, 18-inch ROG Nebula Display QHD+ 16:10 (2560 x 1600)
Ports: 1 USB 3.2 Gen 2 Type-C, 2 USB 3.2 Gen 2 Type-A, with support for DisplayPort, PD, and G-SYNC, 1 2.5G LAN port, and 1 Thunderbolt 4 port with support for DisplayPort and G-SYNCWi-Fi 6E (802.11ax), 2×2
Bluetooth 5.2
The Asus ROG Strix SCAR G834JY, introduced in 2023, has a staggering array of specifications that promise to catapult it to the top of wishlists. 
Imagine how quickly a day's work on this system could be completed by 3D designers, video editors, and other graphics-intensive tasks. 
A massive 18-inch QHD+ 16:10 (2560 x 1600, WQXGA) Dolby Vision HDR screen with a 240 Hz frame rate, 100% DCI-P3 color gamut, and Pantone Validation has also been added by Asus as if that weren't enough.
Accompanied by a screen that you're more likely to discover on a desktop model. This device also features four Dolby Atmos speakers.
 Imagine how quickly a day's work on this system could be completed by 3D designers, video editors, and other graphics-intensive tasks. 
The Asus G834JY makes a strong argument for rising to the top of the finest Work from Home laptops to consider for individuals searching for the latest and greatest to power their next creative project.
Also Read: 6 best laptops for graphic design in 2023
What qualities define a great laptop for working Remotely?
Working from home is an enormously exciting option because of the freedom to work virtually anywhere. 
Your dining room table, a standing desk, or a poolside lounge chair could all function as your home workspace, and your computer could make or break your productivity.
Although the greatest laptops for working from home are listed above, there are some things you should consider before deciding. 
The sort of job will, first and foremost, determine the machine's specifications.
Does your profession involve graphics and processing-intensive tasks like coding, 3D modeling, 4K video editing, and graphic design, or are you merely responding to emails, producing articles, and entering data? 
In addition to considering your connectivity options based on the peripherals you'll need to connect, such as monitors, keyboards, external storage drives, and networking, your usage needs will determine CPU, graphics card, RAM, screen size, and storage space requirements. 
IT departments may also demand particular security features available on only a specific type of laptop. 
Regarding processing power, battery life, viewing quality, operability (think typing and port location), and connectivity, the best laptop for working from home will strike the ideal balance.
You may design the ideal work-from-home environment that gives all the advantages of working remotely and keeps you productive by scrutinizing your needs in advance.