In today's highly competitive gaming landscape, finding the perfect balance between performance and value is crucial for both casual and professional gamers alike. The Lenovo Legion Tower 5i aims to deliver just that, offering a powerful, feature-packed gaming experience without breaking the bank. In this comprehensive review, we will delve into the key specifications, design elements, and performance benchmarks of the Legion Tower 5i, exploring whether it truly lives up to its reputation as a top contender in the gaming PC market.
From its eye-catching aesthetics to its remarkable performance capabilities, let's dive into the world of the Lenovo Legion Tower 5i and see if it has what it takes to emerge as the ideal gaming rig for you.The Lenovo Legion Tower 5 is a high-performance gaming desktop with impressive specs for players who want to enjoy smooth gameplay and high-quality graphics.
The Lenovo Legion Tower 5 might qualify as one of those pre-built computers that could efficiently serve as "your first gaming PC" because a respectable company makes it. Unfortunately, on a $1,400 piece of hardware, the one-year mail-in warranty (you pay to send it to Lenovo, and they deliver to ship it back) seems inadequate.
Lenovo Legion Tower 5i Specifications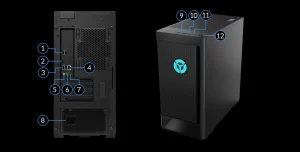 Up to NVIDIA® GeForce RTX™ 2080 Super 8GB
Up to NVIDIA® GeForce RTX™ 2070 8GB
Up to NVIDIA® GeForce® GTX 1660 Super 6GB
Up to AMD Radeon™ RX 5700XT 8GB

Starting at 12.5kg / 27.6lb

Length- 7.26"(18.45cm)


Width- 17.99"(45.7 cm)

Height- 17.94"(45.58cm)


Up to 10th Gen Intel® Core™ i9-10900K

USB-C 3.2 (Gen 1)
2 x USB-A 3.2 (Gen 1)
2 x USB 2.0
RJ45 Ethernet

Intel® WiFi 6 (802.11 ax)
Intel® WiFi 5 (802.11 ax)

Legion Vantage for Gaming
McAfee LiveSafe™
Microsoft 365 30-day trial
Microsoft LinkedIn
PowerDVD / Power2Go

650W: ES Gold
400W: ES Gold
350W: ES Bronze

Up to 2TB PCIe SSD
Up to 2TB or 2 x 2TB HDD

Dolby Atmos® Gaming Effect

2 x USB-C 3.2 (Gen 1)
Headphone/mic combo

Up to 18 hours Apple TV app movie playback
Up to 15 hours wireless web
52.6-watt‑hour lithium‑polymer battery


Price Range- $1,149.99 - $1,400

Is Lenovo Legion Tower 5i a Good Gaming Desktop?
The characteristics that make this desktop a good choice for players are listed below:
Design and Build Quality
Lenovo's Legion gaming PCs are reliable, if not particularly inspiring, platforms on which to begin your PC gaming career.  However, they don't have the most impressive component inventory initially. The design of the Lenovo Legion Tower 5 is solid and streamlined for players.
It has a gaming-inspired appearance thanks to its crimson accents and black metallic finish. The well-made case has an easy-to-remove side panel for upkeep or improvements. Additionally, the tower has a handy carrying bar that makes moving it around simple.  However, the physical construction quality is excellent. It's tidy, well-organized, and has plenty of room for improvement. Of course, it also has RGB illumination inside.
Still, curiously, you must activate it using the installed Vantage software because it ships in stealth mode. There is some adware there, but it's not overly bothersome, and you can permanently remove McAfee.
Performance
The AMD Ryzen 5 5600X processor, a powerful CPU that can manage even the most demanding games and applications, powers the Lenovo Legion Tower 5.
Additionally, it includes an NVIDIA GeForce GTX 1660 Ti graphics processor, which offers fluid and excellent graphics. The desktop's 16GB of DDR4 RAM is also more than enough for most gameplay requirements.
The CPU core performs well in multi-core tests but ranks poorly in single-core tests. This indicates it is lagging behind more powerful graphics processors and needs to push its RTX 3060 past other systems with comparable specifications.
With the fitted single-fan tower CPU cooler, it gets a little toasty. Still, you'll never notice it getting too loud while gaming or working under heavy loads.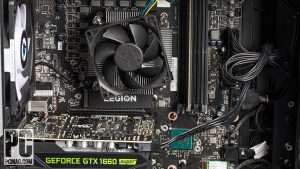 Processor
Regarding productivity, the AMD processor is a potent eight-core, 16-thread chip. However, the single-core prowess of Intel's 12th Gen and 13th Gen means that even its lower-spec, six-core CPUs make for better gaming chips if we want the best gaming performance.
While the RTX 3060 is a respectable mainstream GPU in and of itself, you can buy the much more potent RTX 3060 Ti for roughly the same price from vendors like ABS Master at Newegg and Build Redux (DigitalStorm's mainstream brand).
Sadly, we still need to discover system designers choosing the more potent AMD cards at the same price range over the GeForce GPUs.
Storage
In addition to a 1TB hard drive, the Lenovo Legion Tower 5i has a 512GB NVMe SSD. While the HDD offers plenty of storage space for big files, the SSD provides quick game loading and fast boot times. Although Lenovo's 256GB Samsung SSD is a strong performer, it must be more significant to power a contemporary gaming PC.
As soon as it's removed from the package, 75GB has already been used. You do receive a 1TB data drive, but it is a rotating platter hard drive, and in 2023 you should be playing games on something other than that outdated hardware.
Connectivity
There are only four USB ports on the rear panel of the Lenovo Legion Tower 5. (five if you include the Type-C connection).  With a wide range of connectivity options, such as USB Type-A and Type-C ports, HDMI, DisplayPort, and Ethernet, Lenovo appears downright frugal. Wi-Fi 6 and Bluetooth 5.0 are also included for wireless communication.
There is also no justification for the lack of communication provided by the bare B550 Lenovo motherboard, which is at the center of this apparatus. The rear plate's enormous gaps have a nearly comical appearance.
Upgradability
The Lenovo Legion Tower 5i is made to be easily upgraded. Thanks to its toolless design, users can quickly upgrade or replace components without specialized tools.
Overall, for gamers looking for a high-performance desktop that can manage even the most demanding games and applications, the Lenovo Legion Tower 5 is a great option. Any serious gamer would find it a wise purchase, given its svelte design, impressive specifications, and simple upgradeability.