What Is Cloud Computing?
The distribution of various services on the Internet is known as cloud computing. These services include data storage, servers, databases, networking, and software.
For individuals and companies, cloud computing is a popular choice due to several benefits, including reduced costs, increased productivity, speed and efficiency, performance, and security.
Cloud-based storage enables you to save files on your laptop or pc to a remote database rather than a hard disk or local storage device. 
Files can be stored in a remote database and quickly retrieved using cloud-based storage.
Cloud storage has become increasingly popular among laptop and PC users needing more storage space and companies seeking a reliable off-site data backup option.
Thanks to enterprises that provide cloud services, users can store files and apps on faraway servers and access the material via the Internet.
Because the user doesn't need to be in a specific area, they can access it remotely.
You can process data with cloud computing without sitting at a computer or bringing heavy equipment. 
The work is also transferred to enormous computer clusters located far away in cyberspace. 
Once the Internet transforms into the cloud, your work, data, and applications are accessible from any device that connects to the Internet from different parts of the world.
Also Read: How to upgrade your laptop or PC components for improved performance
Cloud computing models
There are different kinds of clouds, and each one is unique.
Public Clouds
On Internet-connected servers and storage, public clouds offer their services.  These are run by independent firms that manage and care for all the infrastructure, software, and hardware. 
Customers use accounts that virtually anybody may use to obtain services.
Private Clouds
Private clouds are only accessible to a few clients, typically just one company or organization. The company's data center could host the cloud computing service. 
On a private network, many private cloud computing services are offered.
Hybrid Clouds
As the name suggests, hybrid clouds combine both public and private services. This kind of system gives the user more options and improves the infrastructure and security for the user.
The community cloud, the big data cloud, and the multi-cloud are more recent varieties of cloud computing services.
Impact of Cloud Computing on Laptops and PCs 
Professionals from all industries can profit from using cloud-based software, which can be accessed by browsers or native apps on any device. 

Users may readily transfer their files and settings to different.

Cloud computing allows users to store data using services like Dropbox and Google Drive and access their email from any computer.

Users can use cloud computing services to back up their music, files, and photographs. This assures that they will always have access to them during a hard disc catastrophe.

People can use the cloud infrastructure to conserve storage space on their computers or laptops.

Customers can upgrade software faster since software providers can now sell their products online rather than through more traditional, tangible ways such as CDs or flash drives.

Adobe Customers, for example, can use an online subscription to get the applications included in its Creative Cloud.

This makes it simpler for you to download program updates and fixes.
Also Read: Ultrabook vs. traditional: what's the difference?
Cloud Computing Service Providers
The major cloud computing service providers include :
AWS, or Amazon Web Services
100% open to the public, Amazon Web Services features an outsourced, pay-as-you-go business model. After logging into the platform, you can register for apps and extra services.
Windows Azure
Microsoft Azure enables users to save some data locally. Customers of Microsoft Azure are permitted to store some data on their servers. 
Other providers include;
Apple Cloud

Huawei Cloud

Google Cloud 
How Safe Is Cloud Computing?
Data security and platform security are significant concerns because data and software are stored remotely in cloud computing.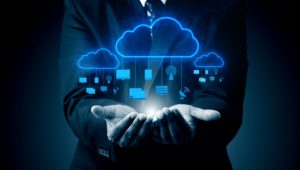 Measures made to safeguard digital assets and data housed on cloud-based services are referred to as cloud security. 
Two-factor authentication (2FA), VPNs, security tokens, data encryption, and firewall services are just a few safeguards to protect this data.
Benefits of Cloud Computing
Even though cloud computing is still a young technology, it is already utilized by many different sectors, including large corporations, small businesses, nonprofits, governmental organizations, and even individual customers.
Cloud computing services provide laptop and PC users with several benefits, such as:
Email backup

Storage

Data retrieval

On-demand software delivery

Developing and evaluating apps

Market entry speed: Using cloud development, users can launch their applications quickly. 

Data security: Networked backups prevent data loss during hardware breakdowns. 

Equipment cost-friendly: Cloud computing makes use of remote resources. This way, users can avoid spending money on servers and other types of equipment.
Read Also: How to protect your laptop or PC from viruses and malware
Conclusion
Today, a wide range of cloud computing applications are used by both businesses and individuals. 
One example of cloud service is audio and video streaming websites where the actual media files are stored off-site.
Another option would be to use data storage platforms like Dropbox, Google Drive, OneDrive, or Box.
There are hazards, of course, with all the efficiencies, speed, and innovations that come with cloud computing.
Many people may access and alter data through a single gateway. So unintentional errors could spread throughout the entire system.