For the past few years, the mobile computing market has grown rapidly.  However, this point is where a new class of mobile computers known as Ultrabooks is developing quickly. 
Compared to our typical computers, they are thinner, more fashionable, and leaner.
Therefore, we considered comparing and contrasting the Ultrabooks with traditional computers to ascertain the differences between these two broadly comparable product groups.
Although there is no particular definition for what a traditional computer is and what an ultrabook is, they are considered thin and light. 
However, they typically have effective Intel processors and display sizes ranging from 11.6 to 15.6 inches. 
Due to the more efficient processor and smaller display, ultrabooks are more durable than traditional laptops.
While an Ultrabook may appear to be a laptop from the outside, there are usually specific differences, such as the absence of optical drives due to the thickness.
Additionally, ultrabook producers strive to make their products as light as feasible.
Although they tend to run with Windows operating systems, they occasionally adopt alternate ones.
Also Read: MacBook Air M2 Full Specs & Review
Things to Know About an Ultrabook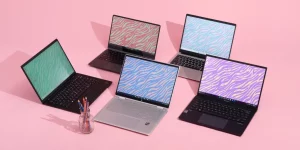 The high-quality materials used to construct ultrabooks, such as glass, magnesium, or aluminum, also lend them an apparent aesthetic appeal. 
But due to their thickness, ultrabook keyboards frequently have a shorter height than standard laptop keyboards.
Ultrabooks are often constructed on top of Intel's ULV platforms, allowing them to take advantage of the efficiency of the less powerful processors to improve the device's battery life. 
Although they typically have a battery life of more than 5 hours, non-removable batteries are frequently used to meet thickness requirements. 
Additionally, ultrabooks use lightning-fast SSDs to maintain fantastic boot times that are practically on par with desktop computers.
But beware—some Ultrabooks may not feature all the connectors you'd expect from a typical mobile computer.
As the name implies, a laptop is a portable mobile computing device that may be used while sitting on your lap. 
They were designed with mobility in mind and emulate the features and additions of a standard PC. 
With traditional computers, mobility was not a top consideration. This is because traditional computers were too large to be carried around in the early 1990s. 
The laptops were created to solve this issue, allowing you to move it about inside a closed space without much effort or tangled cords.
Given the nebulous requirements, one may understand why laptops have more functionality than notebooks.
They more closely resembled your PC thanks to its extensible ports and accessories. 
Additionally, additional hardware elements were used to emulate the PC as closely as possible while still constrained by battery power. 
Compaq SLT/286, a laptop introduced in the late 1980s, is a great example. 
It was thick and weighed about 15 pounds. 
If you are familiar with the classic IBM horizontal cases with a floppy drive in the front, the SLT/286 is simple to picture.
Traditional computers vs. Ultrabook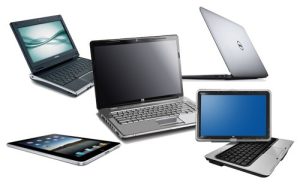 • When compared to traditional computers, ultrabooks are often more compact, thinner, and fashionable.
• Regular computers often range in size from 13.3 inches to 18+ inches, whereas ultrabooks typically range from 11.6 inches to 15.6 inches.
Ultrabooks have longer battery lives because they feature less powerful processors than standard laptops.
• Regular computers do not have the same limitations as Intel ULV systems, which ultrabooks use.
• SSD drives are commonly found in ultrabooks, which provide significantly faster startup times than standard laptops.
• By incorporating high-end components like Aluminum, Ultrabooks also have a more substantial visual appeal.
• Regular laptops may or may not contain premium materials like aluminum, magnesium, etc., in their designs, but ultrabooks have a better aesthetic appeal overall.
Also Read: 10 Benefits of using a desktop PC over a laptop
Conclusion
Whether you should purchase an Ultrabook or a standard computer depends on how you want to use it. 
When running power-hungry programs and using your computer for gaming, ultrabooks are typically not the greatest choice. 
It is clear that with dedicated GPUs, ultrabooks can compete with traditional laptops in gaming. 
However, Ultrabooks might be a fashionable option if you want the device to work with typical office software and native Windows apps that are readily available without significant performance limitations.