According to 2015 data, the travel and tourism business is worth 6.3 trillion dollars. Mobile applications have played a significant role in this accomplishment.
As the tourist sector and technology collaborate more, both have earned multiple grand slams, with many more on the horizon. 
The days of guidebooks, compasses, maps, and other printed materials have given way to travel applications packed with features.
Smartphones make transporting all the materials you'll need on your vacation adventures easier. According to demographic data, travel and tourism are the seventh most downloaded app category.
In addition, 45% of this demographic, which makes up 60% of all smartphone users worldwide, routinely use these applications to plan their vacations and travel itineraries on their phones.
The ability to have a robust app presence has improved a company's ability to connect with clients who would be considered "mobile" in the purest sense. 
If you operate a tourist business or want to invest in one, you must make this technological investment. 
Travel agencies operating through a single brick-and-mortar location are less likely to draw the crowd than mobile applications incorporating user friendliness and other extensive functions. 
This applies to all forms of tourism-related business, such as vacation packages, guided tours, auto rentals, hotel reservations, tickets, food and beverage services, and everything else. 
For Instance, MakeMyTrip, India's largest online travel firm and the second most popular travel website after IRCTC, was established by Deep Kalra in the US in 2000.  
MakeMyTrip is a well-known brand for services on opulent tour and hotel booking websites. After its founding, the firm expanded through several modest acquisitions.
The ability to innovate is essential in the fiercely competitive travel sector to meet the expanding expectations of customers buying travel-related goods and services online. 
MakeMyTrip was required to manage an adequate IT infrastructure to maximize its profits because changes in travel rates from suppliers influenced revenue. 
MakeMyTrip has increased its market share year after year thanks to an excellent mobile application and creative marketing efforts. Its income has increased by 30% yearly since it released its mobile application and upgraded its servers.
Read: How to test your mobile app before launching
What impact does a mobile app have on the travel industry?
In recent years, mobile applications have tremendously influenced the tourism sector. With the growing popularity of tablets and smartphones, travelers rely significantly on mobile applications for trip planning and booking.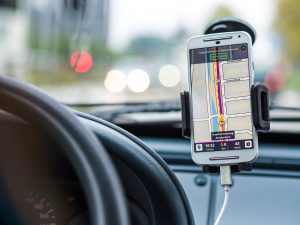 This article looks at the impacts of mobile apps on the travel industry.
1. Increased accessibility
One of the most significant impacts of mobile apps on the travel industry is the increased accessibility they provide.
Mobile apps allow travelers to access information about hotels, flights, rental cars, and other travel services from anywhere.
This means they can plan and book their trips on the go, whether commuting to work or queueing at the grocery store.
2. Greater convenience
Mobile apps have also made travel more convenient. With just some taps on their smartphones, travelers can book flights, reserve hotel rooms, and rent cars.
They can also check-in for flights, download boarding passes, and access travel itineraries all in one place. This saves travelers time and eliminates the need for multiple documents and confirmation numbers.
3. Personalized experiences
Mobile apps have also enabled travel companies to provide more personalized experiences to their customers.
For example, travel companies can offer customized hotel recommendations, flights, and activities by collecting data on their preferences and travel history.
This not only makes travel planning more accessible but also helps travelers make more informed decisions about their trips.
4. Improved customer service
Mobile apps have also improved customer service in the travel industry. With mobile apps, travelers can quickly contact travel companies for support, whether to change their itinerary or report a problem with their hotel room.
Travel companies can also use mobile apps to send personalized messages to customers, such as flight delay notifications or hotel room upgrades.
5. Increased competition
Finally, mobile apps have increased competition in the travel industry. With the rise of mobile booking platforms, travelers have more options than ever before when planning and booking their trips.
This has led to lower prices and more choices for travelers as travel companies compete for their business. With the number of mobile users rising daily, their mobile devices are the only way to contact them.
Also Read: The Impact of app store optimization on mobile app success
Conclusion
In today's world, developing an app with powerful functionality and security is the only way.
Contact a developer or app development firm with sufficient experience creating mobile applications. This is an era in which success requires hard labor and clever work.