Jumping into bed after a long day might be fun, but it can be challenging if you have trouble falling asleep. Fortunately, there are many sleep aids available that try to help by promoting a happy rest.
Not everyone has the luxury of sleeping in if they want to wake up feeling refreshed.
This list of the best sleep gadgets contains something for every type of sleeper, whether you need a calming voice to help you fall asleep or bedding that controls your body temperature.
Here are some of the most incredible sleep gadgets for a good night's rest.
Alarm clock with a sunset feature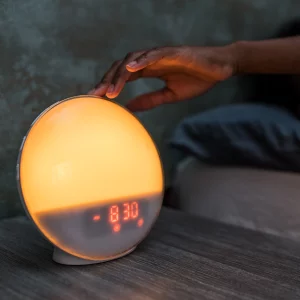 This Class 1-rated medical device promotes a regular sleep pattern by gradually diminishing the light. The various lighting effects are designed to either stimulate you in the morning.
Hence, you feel alert or to assist you in becoming blissfully tired in the evening when it's time to unwind. With a sunset and dawn feature, you may believe you're lounging on a sunny beach rather than watching Netflix in your room as you fall asleep and wake up with the help of the real pink, orange, and red colors.
When you're getting ready for bed, you can adjust the low-blue light to help counteract the detrimental effects of the Glow from your phone or tablet.
It is a helpful sleep aid and an alarm clock with over 20 different sleep and wake-up sounds. In addition, it serves dual purposes as a radio and night light, making it a beneficial addition to your bedroom overall.
It's also important to note that the Lumie Bodyclock Luxe is recommended for people with SAD or seasonal affective disorder. If you find the darker months incredibly challenging, this multipurpose clock can be a helpful bedside accessory.
The Morphée sleep aid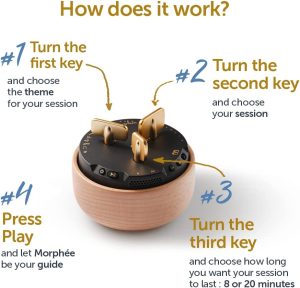 This sleep aid's brief, guided sessions may be the answer if you like the idea of meditation but need more patience to commit fully. There are more than 200 sessions available so that you can switch things up every night.
This would be useful if you enjoy listening to music before bed but find podcasts or audiobooks too active or engaging.
You can put together your masterpiece by turning the three keys. For example, you can select a theme in the first option, a session in the second, and a listening time duration between 8 and 20 minutes in the third option.
Therefore, by experimenting with various routines, you can find what works best for you, thanks to the different keys and their functions.
This low-maintenance sleep device might fit into your room with no screens or cables and a gorgeous beech finish. If you grow attached, you can even take it on trips thanks to its neat, portable nature.
Yoto player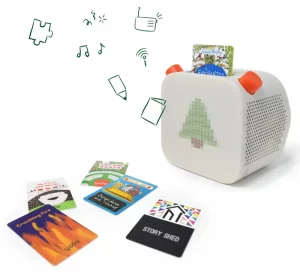 Here's one for the kids, but let's be honest, anything that gets them to sleep is good for the whole family.
Children can fall asleep while listening to their favorite story with this cute, small device that nearly looks robotic. Insert a card into the device, and their preferred story will begin to play.
The cards are purchased separately (making it simple to take care of birthday and holiday gifts), and your kids can build their library from a vast selection of podcasts, stories, and music.
You can set specific hours for sleeping and waking up, so if your little ones have trouble establishing a regular schedule, this helpful device can help.
The attractive pixel display is a pleasant way to notify children of the time and weather without adding another screen to their lives.
Additionally, it doubles as a Bluetooth speaker, so everyone in the home can use it when it's not playing Paddington or The Gruffalo.
Also Read- The rise of smart wearable devices for healthcare
Hybrid Duvet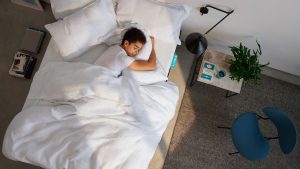 Even though you've all tried the "one leg in, one leg out" technique, it's not necessarily a tremendous success in helping you get the perfect temperature when attempting to drift off.
However, Simba's Hybrid duvet's temperature-controlling characteristics are designed to alleviate this inconvenience.
In addition, you should feel comfortable thanks to the duvet's usage of Stratos, an astronaut-inspired temperature regulating feature that traps more heat when you're very hot and releases it when you start to feel cold.
Additionally, the stuffing is well-distributed thanks to the square pockets, so you should spend less time flapping your duvet around to smooth out the bumpy areas and more time sleeping.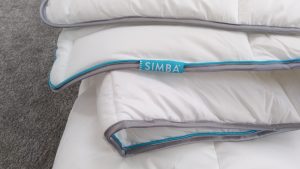 Suppose you're trying to make greener decisions. In that case, you'll be happy to learn that the filling is made entirely of recycled plastic bottles.
You can choose a single, double, king, or super king size, depending on how you want to sleep. Then, if you freshen it up, throw it in the washing machine at 40°C.
Kokoon Relax headphones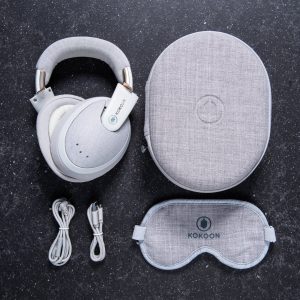 It may seem paradoxical to wear headphones to bed to aid with sleep. The weighted sensation takes some time, especially if you don't typically sleep on your back.
However, you can still enjoy the audio sensations provided by the Kokoon Relax headphones and companion app as you unwind in bed, taking them off when you detect your eyes closing if it is too uncomfortable.
The app also offers various activities, including guided body relaxation and breathing exercises, white noise records, and the familiar calming sounds of ocean waves or rainfall.
Additionally, the app can record data about your sleep patterns and make voice recommendations depending on your responses to questions about your sleep.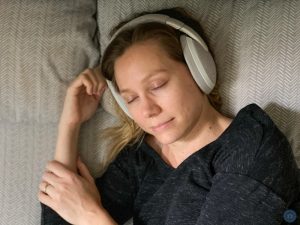 Of course, you may use the Kokoon headphones to listen to music (or your preferred Science Focus Podcast episode) without using the app. They provide passive and active noise isolation and look stylish in black or grey.
The Kokoon is incredibly light and genuinely comfy, albeit not as cushion-like as they say. (Amy Barrett)
Philips Hue White & Colour Starter Kit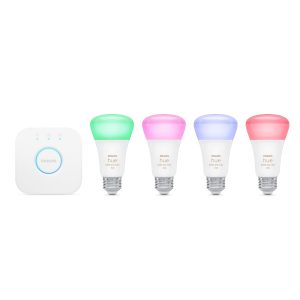 The Philips Hue smart lights are well known for their rainbow of disco-inspired colors, which are great for kicking off the party but are also helpful for winding down later.
The lights are not only vibrant, but they also come in a range of hues of white, which can resemble how the Sun sets at night as it progressively dims as you nod off to sleep.
A wake-up routine also functions the other way around to help you naturally awaken so that your alarm doesn't upset you as much.
Thanks to smart technology, they'll also connect to various other apps and gadgets, giving you complete control over your environment.
Casper Glow Light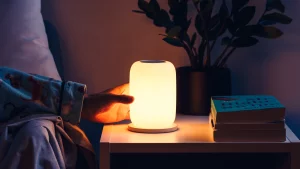 The chic Casper Glow Light awakens you from your state of beauty by simulating daybreak.
You may customize the peak brightness, the amount of time it takes the Casper Glow to fully dim from light to night, and the wake-up time using the Casper Glow app.
With fairly common characteristics, however, the Glow stands out from its rivals in mobility and grouping. The Glow looks lovely when charging in the evening.
Still, you can take it up and shake it for a soft auxiliary light when you go to the kitchen for a midnight snack (or a hasty rush to the bathroom).
If you buy two Glows, you can control many rooms at once, which is ideal for families with young children because it makes it easy to turn off the lights.
Due to Casper's focus on their North American markets, they are sadly no longer offered in the UK.
SNOO smart baby bassinet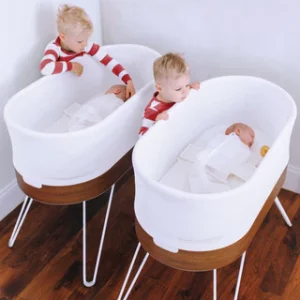 Anyone who has ever had a kid will understand that getting a whole night's rest occurs in your fleeting fantasies.
Therefore, anything that can keep your child asleep for an additional hour or two will give you crucial minutes to get ready for another day of dirty diapers and milk that has been thrown up.
The SNOO smart bassinet plays white noise, which is already a great hit in the US and has received acclaim from stars like Beyoncé, Mila Kunis, and Natalie Portman.
At the same time, it rocks the baby back and forth and speeds up if they start crying.
It has won multiple honors, participated in scientific research on newborn sleep, and is said to be able to soothe your baby back to tranquillity in around 30 seconds.
It may also help with postpartum depression. It is also the plushest bed that most of us will ever sleep in.
Conclusion
A waking nightmare known as INSOMIA can rob you of your health and sense of well-being. Everyone knows that getting enough sleep is essential for good health and for removing toxins from the brain.
Still, it can be challenging to fall asleep when anxious, and worrying about it has the opposite effect. Unfortunately, there is no quick fix or treatment for insomnia.
However, the finest sleep tools and applications can benefit certain people. Numerous products that promise better sleep have been developed to capitalize on the sleep-deprived consumer market.
We are all unique, so what works for one person may not work for the next. Some make dubious claims or overstate their hypnotic powers.
By turning off your electronics before bed, listening to sleep music, and splurging on one of the greatest mattresses available, you may extend your time in the land of nod.