Using good kitchen gadgets is part of the fun of cooking. When wanting to update your kitchen or find the perfect gift for your favorite cook, there is a wide range of things to pick from, from basic kitchen utensils to countertop appliances.
It makes no difference if your kitchen is vast or small or if you cook for one or many. Numerous technologies are available to help you work smarter and faster—and make cooking duties easier. Below are some of them:
1. 2.7-in-1 Instant Pot Duo 6-Quart Electric Pressure Cooker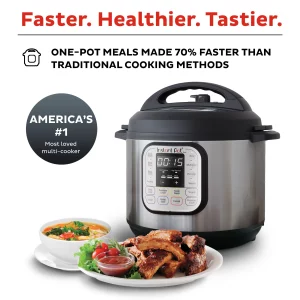 Undoubtedly, the Instant Pot has become the "it" appliance in American households. But, of course, electric pressure cookers were available before the Instant Pot.
Still, the brand popularised the item and made it nearly as common as slow cookers were for earlier generations.
The 6-quart DUO60 ranks among the most popular models, with seven cooking modes ( slow cooker, pressure cooker, rice cooker, saute/browning, yogurt maker, steamer, and warmer) and 14 preset cooking programs.
When producing yogurt, you don't need to select "Sauté" to get the milk to the optimum temperature, and slow cooking "always produces tender beans and meat in four hours on high."
Features
Stainless steel
6-quart capacity
13.38 x 12.2 x 12.48 inch dimensions
Pros
Remembers prior configurations
There are three temperature settings.
Temperature management that is precise
Cons
It comes with a few extras.
2. OXO 3-in-1 Avocado Slicer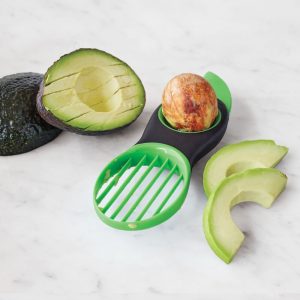 Avocados can be challenging to open, especially if you have little experience with a knife. The number of times your knife slips while attempting to remove an avocado pit is sometimes uncountable.
To avoid this, consider purchasing an avocado slicer. You can use it to slice the avocado while taking it from its shell and opening it.
When you have this equipment in the kitchen, even kids can help make guacamole because of how simple it is and how sharp but safe the cutting edge is.
This tool helps you get control of the situation as the tiny blades hold the pit from three different angles, making it almost slip-proof.
Features
The blade is made of stainless steel
It is 0.75 by 2.25 by 7.75 inches
It is only dishwasher-safe on the top shelf.
Pros
Produces uniform avocado slices
The cutting edge is sharp but not dangerous.
Cons
The cutting edge may be a little longer.
3. Dreamfarm Vebo Cooking Basket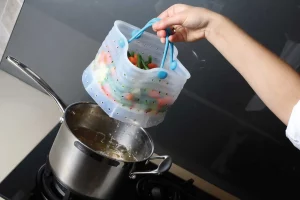 Everybody eventually needs a filter, whether it's to drain pasta or remove the bones from soup stock. All of these and much more are accomplished by this pliable silicone strainer.
Since the shape fits inside an Instant Pot or electric pressure cooker, you can use it as a steamer basket in the cooker.
It may also be placed in your chosen saucepan to steam fish, veggies, or eggs, or you can use it to boil pasta (raise it to drain) on the stove.
The handles on the basket make it simple to move; however, when you're trying to fit the strainer into a pot, they fold down. It can endure heat up to 260 degrees Celsius, or 500 degrees Fahrenheit.
In addition, it can be cleaned in the dishwasher because it is composed of silicone. However, a few reviewers point out that the filter's silicone mesh bottom surface requires a good cleaning.
Features
It is made of silicone
It has a 2.6-liter capacity
It is dishwasher-safe.
Pros
Versatile
Collapsible
Dishwasher-safe
Cons
Cleaning the interior bottom surface could be challenging.
4. Julienne Hand-Held Mandoline with Adjust-A-Slice from Progressive International Prepworks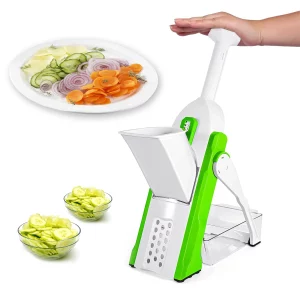 Although it may be used for several fruits and vegetables, a mandoline is a great tool for making even cuts for potato gratin, handmade potato chips, or French fries.
This low-cost portable model offers two types of slicing—straight or julienne—and three thickness settings. It also includes a non-skid base to place over a bowl or keep firm on the counter.
Its praised for its effectiveness and sharpness, portability, and cleaning ease. However, she did see that the food holder needed some improvement.
The blade appeared just as sharp and efficient as the more expensive choices we examined. In addition, we had no trouble slicing through denser material.
Features
The blade is made of stainless steel
Its dimension is 13 x 5.25 x 2.25 inches
It is dishwasher safe; however, hand washing is advised.
Pros
Sharp blade cuts with ease.
Settings for julienne and straight slices
Lightweight and small for simple cleaning and storing
Cons
Useless food holder
Limited settings for thickness
A no-stand
5. Breville The Smart Grinder Pro

For the avid coffee lover, Breville offers this cutting-edge coffee grinder. It has stainless steel conical burrs meant to dissipate heat, and safeguard the bean's natural oils and an electronic timer that lets you alter the grind time.
There are 60 grinding settings with 2-second increments, ranging from extremely fine to extremely coarse. A ground-coffee container with a lid, a cleaning brush, and two sizes of portafilter cradles are all included with the grinder.
This machine consistently produces excellent results no matter what grind you choose. Despite its versatility and precise settings, it is also quite user-friendly.
The coarsest grinds were also an exact size—no big lumps and little dust—while the finest grounds were constantly powdered.
Features
18-ounce capacity
Stainless steel construction
165 watts of power
Pros
Simple to use interface
Uniform grind size
A cup of coffee grinds also serves as storage.
Cons
6. Chef'n FreshForce Citrus Juicer, 10.25 long, Yellow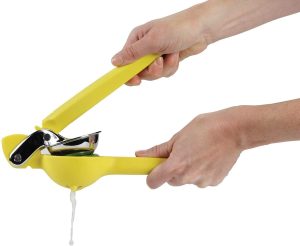 With the help of this manual citrus juicer, juicing lemons is simple. It is comparable to other citrus squeezers made in Mexico.
Still, it has a gear system that multiplies the force, so you don't have to exert as much effort to squeeze out all the juice.
While juicers of various sizes can handle small limes and giant oranges, this medium-sized unit can process a wide range of citrus sizes.
It is top-rack dishwasher safe and made of nylon and stainless steel for simple cleaning. However, some reviewers do mention that if you're juicing a lot of fruit, it can become tiresome.
Features
Nylon and stainless steel are the components.
The item's measurements are 10.25 x 3.25 x 2.75 inches
For top rack dishwasher only.
Pros
It doesn't occupy much room
Easy to use
Dishwasher-safe
Cons
Juicing in bulk can get exhausting.
7. OXO Good Grips Pro Swivel Peeler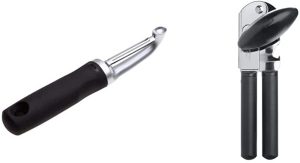 Peeling an average-sized potato takes around 30 seconds for each potato. However, peeling is made easy, and the peels slip off the peeler rather than become lodged in the blade.
A swivel peeler is a fundamental kitchen tool, so be careful to purchase one that lasts many years. This peeler resembles the typical Good Grips model in terms of form, but it has a little more metal and a better blade.
It will feel the same because it has the exact cozy grip and a potato eye remover at the top. This peeler is more expensive than some alternatives on the market.
Still, the extra cost is more than justified given how frequently you'll use one in your kitchen and how long it will last. Kids adore using this peeler because of how quickly and smoothly it peels.
Features
Dishwasher-safe
It is made of stainless steel
Its dimension is 10.4 x 4.2 x 1.2 inches
Pros
A cozy grip
It consists of a potato eye remover
Peels smoothly and effortlessly
Cons
8. OXO Good Grips 3-Piece Silicone Spatula Set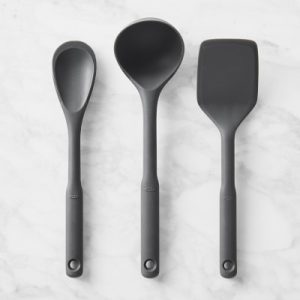 It won't scratch cast iron or non-stick surfaces and is safe to use on most cookware. Although it has a rubbery appearance, it has high heat resistance.
It won't melt when used to stir or flip hot dishes, such as eggs from a pan or stirring sauces in a pot. An utterly functional kitchen needs more than one spatula, so this set from OXO Good Grips comes in handy with its small, medium, and "spoon" spatula.
The shovel-shaped spoon spatula worked wonderfully in our tests for stirring spaghetti and reaching pan corners. The little spatula is perfect for mixing salad dressing in smaller containers and may be used to go into jars.
Finally, the large spatula will be your go-to tool for scraping batter from mixing bowls.
The silicone in the head has the ideal density, with just enough flex for the sides to fit the jar, dish, or Pot we were working in, yet robust enough to handle dense items, such as a particularly sticky icing that resembles marshmallows.
Features
Dimensions: 7.25 x 13.38 x 0.63 inches
Heat resistance: up to 600 degrees Fahrenheit
It is dishwasher-safe
Pros
Set of three
Heads can move very freely.
Useful forms
Cons
It is not made of a single piece
It has no option for color
9. Microplane Black Classic Stainless Steel Zester and Cheese Grater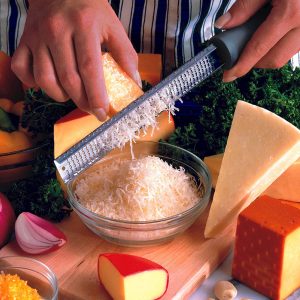 This grater features a hole in the handle for hanging it on a hook or knife rack for simple storage. Additionally, it may be easily cleaned after each usage in a dishwasher.
Customers adore how fast and efficiently it zests fruit and how fine the shavings are. However, others say the results when grating cheese could be better.
The uses of a microplane go far beyond the simple zesting of citrus fruits. I use mine to grate hard cheeses like Parmigiano-Reggiano, nuts for salad toppings or to add nuttiness to baked products, and even chocolate for shavings.
It can also be used to grate whole spices like nutmeg, garlic, ginger, and other root vegetables that you would generally cube, and hard-boiled eggs for salad.
Stainless steel is used for the blade, which is 8 inches long and dishwasher-safe.
Pros
Extremely sharp cutters
It is simple to use.
Simple to store and clean
Cons
Not very good for cheese grating
10. Ouddy 5-Pack Stainless Steel Whisk Set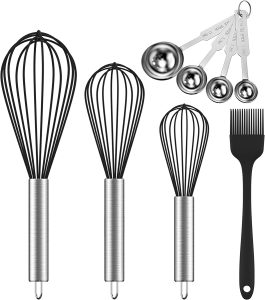 A whisk is a need in any kitchen. Or two. You can always find the right whisk for the job with the three whisks included in this package. It has three whisks: an 8-inch, 10-inch, and 12-inch whisk.
The whipping cream should be done with the largest whisk, salad dressings with the medium, and hot chocolate with the smallest. This set also includes a silicone frying brush and measuring cups.
The non-stick whisks are also simple to clean. Customers adore how easy they are to use and how pleasant they are to grip.
Even while they might not be up to the most demanding duties, most people believe they perform admirably for regular kitchen use—especially given the price.
Features
8-, 10-, and 12-inch stainless steel whisks are included.
Pros
Inexpensive
Simple to clean
Lightweight
Cons
It may not hold up to frequent use
These listed above and many more are some kitchen gadgets you should get this 2023 to have a fantastic cooking experience.