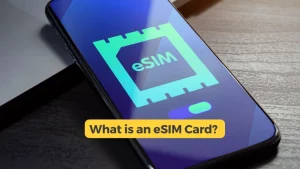 An eSIM, or digital SIM card, virtually identifies your device to establish a network connection.  It is software-programmable and incorporated into more recent smartphones. 
eSIMs provide a high level of protection against unauthorized access and tampering. 
You can feel confident knowing your mobile data and plan are protected if you consider switching to an eSIM.
We are aware of what a "SIM card" is since making and receiving calls without one is almost impossible. The technology, eSIM, has recently acquired popularity. 
Not all smartphones enable eSIM technology at the moment. However, the smartphone market is being significantly affected by this innovation. 
The iPhone 14 was introduced in September, and the US model only supports eSIMs and lacks even a SIM card connector.
You physically insert a SIM, or "Subscriber Identity Module," into your phone or another mobile device. You physically insert a SIM into your phone or another mobile device. 
A SIM stands for "Subscriber Identity Module." It has the information required to connect your device to a mobile network. 
This typically includes your mobile subscriber ID, the cellphone number your carrier assigned you, and the unique SIM card ID. 
You can only connect to a mobile network if your service provider provides the appropriate SIM card.
Switching phones is easy because a SIM card may save your contact information.
How To Switch SIMs in your phone
Remove the SIM card from your old phone and put it in the new one.

The motherboard of the device reads the cards.

The card reader on the device's motherboard reads the SIM card's real chip. 
The SIM card from your former carrier must be removed, and the SIM card from your new provider must be inserted into your phone when switching mobile service providers.
How Does the eSIM Technology Work?
You can use eSIM to access your mobile network without a physical SIM card. Your mobile operator or service provider issues an eSIM QR code or activation code when you buy a cell phone plan.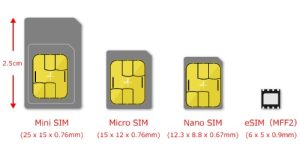 Once you activate such a code on your smartphone, the eSIM is downloaded to the chip and becomes usable. The eSIM is inactive until you configure it to connect to a mobile network.
To put it simply, an eSIM is a virtual SIM card. Mobile devices come with eSIMs. ("e" stands for "embedded"). Unlike a typical SIM card, an eSIM cannot be removed and transferred but can be remotely rewritten. 
Additionally, eSIMs have 512 KB of memory instead of a standard SIM card's 128–256 KB. This memory may hold many cell providers as eSIMs, making connecting them simple.
Once enabled, you can use your device with the wireless service you purchased from anywhere worldwide. Your smartphone may constantly connect to the service of your cell operator, just like with SIM cards.
Read Also: How To Monetize Your Apps in 2023
What Are the Key Benefits of an eSIM?
1. Worldwide accessibility
Make use of an eSIM if you travel frequently. You can always communicate regardless of how often or abruptly you move around. 
With eSIMs, traveling is far more convenient, especially for those who frequently switch between the two countries.
While keeping their two lines active, ex-pats and business travelers can swiftly switch from their local operator to an eSIM card provider. 
An eSIM service is concentrated on mobile connectivity everywhere and anytime.
2. Ability to maintain multiple profiles 
Switching between networks and back again is possible without permanently deleting accounts because of eSIMs' ability to keep multiple profiles. 
This feature makes it possible to stay connected to a network wherever you are, which is reasonably practical when traveling. 
In many cases, it's also less expensive than activating global roaming.
3. eSims take up less space on mobile devices
Currently, nano-SIM cards are present in the majority of modern smartphones. eSIMs are only 4mm thick, whereas these little cards are 8.8mm thick. 
The smaller size gives phone manufacturers more room to include features like a bigger battery or a faster CPU, boosting a phone's processing power. 
Additionally, a phone's IP rating against dust and water is improved because there are fewer entry points without a SIM card port.
As smartphone manufacturers work to fit more features and functionality into a compact space, every inch counts. 
With an eSIM, an actual SIM card and reader are unnecessary, freeing up space for further applications or developing even more compact products. 
Removing a detachable SIM card tray, which eliminates one possible point of failure, may also boost a device's general performance.
4. It's possible to have many phone numbers
If you use an eSIM, you can have multiple phone numbers, exactly like when you use a phone with two SIM card slots. 
The biggest benefit is that you may use either number to make and receive calls and send and receive texts, making it easier to manage your incoming and outgoing messages. eSIMs
5. eSIM cards are less complicated to activate than SIMs
In contrast to traditional SIM cards, which must be inserted into your phone to be activated and frequently require the hand steadiness of a surgeon, an eSIM may be triggered by simply scanning a QR code that registers your eSIM profile with your mobile network.
On some networks, you may need to enter a PIN. In most cases, connecting to your network doesn't take more than 15 minutes.
eSIMs also provide a high level of protection against unauthorized access and tampering.
Read Also: How to develop a successful open-source project
Conclusion
It's important to know that damage or loss cannot occur to an eSIM. You should be aware that your phone already contains an eSIM. A bad SIM card degrades the strength of the signal. 
Thus, phone-related troubles become common.  One of the numerous reasons you should test eSIMs is that doing so reduces the risk.