As a result of advanced technology, people have been compelled to rely extensively on smartphones. 
Mobile devices now do many of our daily tasks thanks to their expanded functions, including online browsing, scheduling appointments, setting reminders, exchanging files, instant messaging, video chatting, and even mobile banking.
Due to their portability and all of these features, mobile devices are subject to offline and online threats. 
Malware (such as viruses and spyware) created specifically for mobile devices, unauthorized access, phishing, and theft are some prevalent security issues.
However, there are ways to make your smartphone and its data safe and secure.
Also Read: How To Make Your Smartphone Last Longer
How to Backup and protect your smartphone data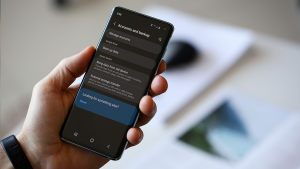 Here are some guidelines to back up and protect your smartphone data.
1. Make use of biometrics and strong passwords
Unauthorized access is tricky because of solid passwords and biometric features like fingerprint authenticators. Use alphanumeric characters in your passwords, which should be eight or longer.
You might be tempted to utilize a browser's "remember me" feature to save your passwords because they are so difficult in other apps. 
Administrators and users of the device should avoid this feature since it merely increases the likelihood of password spoofing. 
Alternatively, if you misplace your smartphone, someone else could access it completely. Access to accounts where you have valuable data, such as banking and payment systems, comes with that. 
Remember to change your password occasionally (at least once every three months). Multi-factor authentication is an option.
Use two-factor authentication (2FA) if your mobile device supports it. You won't want to be the target of unanticipated attacks. 
When 2FA is enabled, you must log in to specific apps or websites using a second authentication method. 
An SMS message, email link, or verification of the legitimacy of the login from another device to which you are connected are examples of authentication techniques.
2. Make sure that free or public WiFi is secure
Free WiFi is quite popular, especially if your data plan is limited. But because most free WiFi hotspots are not secured, the free deal can result in disastrous results.
Cybercriminals can easily intercept network traffic on these open networks to obtain your passwords, usernames, and other sensitive information.
Use software that encrypts your connection or lets you know the WiFi state to which you are connected to prevent WiFi hacking. 
Wired Equivalent Privacy (WEP) is less secure than WPA (WiFi Protected Access). It would help if you also disabled wireless connectivity (WiFi and Bluetooth) when not in use as a precaution. 
By doing so, you'll be able to save battery life and prevent automatic connection to insecure networks.
3. Make use of a VPN
A VPN (Virtual Private Network) system is necessary if you need clarification about the network's security state. 
You can safely connect to a network using a VPN. Additionally, the VPN will hide your public WiFi from snoopers. Additionally, it is helpful when visiting less secure websites. 
VPN services are affordable and extremely useful for securing website traffic and personal data.
4. Encrypt your device
Most mobile devices already have encryption software preinstalled. Making data illegible to unauthorized access is done through encryption.
On the other hand, decryption will turn unreadable data into data that can be accessed. Encryption is crucial in theft cases since it prevents unauthorized access. 
You must find this feature on your phone to encrypt your mobile device and create a password lock.  Depending on the quantity of your data, this process can take some time. 
You'll need more patience with the more extensive data set. The encryption password is crucial because you must enter it when using your mobile device. 
Consider backing up your data as an extra precaution, as specific mobile devices will delete it if the wrong encryption password is entered enough times incorrectly.
Also Read: Android vs. iOS: Which smartphone OS is suitable for you in 2023
5. Install an antivirus program
On your mobile device, the programs you download and the files you install could both contain harmful code. 
Once activated, this code might provide hackers access to your data, leaving you vulnerable and robbing you of your privacy.
Installing a reliable antivirus program will increase your security to prevent that. 
Additional features offered by specific antivirus programs include:
Wiping your data clean if your mobile device is lost.

Tracking and blocking potentially dangerous callers.

Alerting you to risky applications. 
They also offer to remove your cookies and clear your surfing history. Your login information is stored in cookies, tiny software tokens that could be compromised if malicious access is gained.
6. Install the most up-to-date software
That old and outdated software on your mobile device may also be prone to security risks. Always upgrade your device's software to prevent that.
Major manufacturers of mobile device firmware, like Apple's iOS and Google's Android, periodically release new versions.
The majority of such updates serve as security for your device. You can do this automatically or manually.
7. Back up your smartphone
It is critical to understand that, despite your best efforts, mistakes can still be made that cost you more than money.  
If your mobile device is compromised, you risk losing all your data, including your contacts and priceless photo memories. 
This is why having a reliable backup system is essential so you can retrieve your data if your phone or access is lost or stolen.
Step-by-step guide on how to Backup your smartphone's data
Here's a step-by-step guide on how to Backup your smartphone's data
1. Access Settings from your apps or the Quick Settings menu.
2. Navigate to the page's bottom by scrolling down.
3. Select System from the menu.
4. Select Backup.
5. Verify that the Backup to Google Drive toggle is turned on.
6. Press Backup to sync your phone's most recent data with Google Drive.
You can save your files to a different location, such as OneDrive, Google Drive, iCloud, or another service.
Read Also: How to develop a successful open-source project
Other tips to note;
Avoid using autofill when you visit websites and applications. 

The autofill function is responsible for this. So, as soon as you can, please turn it off.

Always log out whenever you finish using any mobile applications, especially ones that are interconnected, like Google applications.

Use reputable app stores only—for example, Apple's App Store.

Your mobile device's operating system will determine this.

If your mobile device disappears, consider turning on Find My iPhone (Apple) or Find My Device (Android).
It's crucial to ensure you are aware of any funny activity on your smartphone to stop them quickly.