Almost everyone owns a phone and, more still, an iOS. Many make memories with their friends and families at almost every corner they go through.
However, some people don't own a phone and may seek to know the best to opt for. Aside from answering questions about phones with the best battery life, camera quality, and space, another is to consider the best operating system.
Android and iOS are the two popular operating systems for smartphones. Both have distinctive qualities and abilities and choosing between them may be challenging for many people.
Also Read: Top 8 Trends in Mobile App Development for 2023
Things to Consider before choosing between an Andriod and an iOS operating system
To help you choose the best in 2023, we will evaluate Android and iOS regarding user interfaces, app selection, performance, security, customization, pricing, etc. 
User Interface
The user interface is among Android and iPhone's most apparent distinctions. 
Android smartphones have a more configurable interface with various options ranging from changing the home screen, app icons, and general theme.
On the other hand, the iPhone offers a less customizable, more unified UI.
Android users may personalize their home screens by including widgets and altering the design of their app icons. 
People who desire rapid access to specific features or data on their home screen may find this beneficial. 
Although iOS lacks this function, it does let users group their app icons into folders for more straightforward navigation.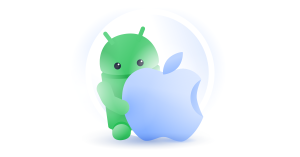 App selection
The choice of apps is more to consider when deciding between Android and iOS. Many apps are accessible on both platforms, but particular distinctions exist.
Overall, more apps are available for Android, including more free ones. However, some well-known apps, such as games and music streaming apps, might debut on the iPhone first.
The iPhone may, however, be the initial platform for the launch of several popular apps, such as games and music streaming apps.
Furthermore, iOS's app store is more strictly regulated, and all applications must pass inspection before being permitted for download. 
This may increase overall app quality, but it could also delay the release of new apps.
Also Read: How To Monetize Your Apps in 2023
Performance
Both Android and iOS have strengths and shortcomings when it comes to performance. Android devices often have higher RAM and processing capability. 
This will enable individuals to work more quickly and effectively on several projects simultaneously. However, this might also result in Android smartphones' batteries lasting longer than iPhones.
In iPhone devices, processing speed, and RAM are frequently lower. However, they generally use resources more effectively. 
Longer battery life may result, but it may also make iPhones slower at managing numerous tasks or running resource-demanding applications.
Security
Every smartphone user should be concerned about security, and Android and iOS have systems in place to safeguard user information.
Android devices are frequently considered less safe than iPhones due to their open architecture. 
There is a greater risk that malicious apps may be downloaded because Android users can install apps from other sources aside from the Google Play Store.
To overcome this problem, Android has improved recently. Before downloading, Google Play Protect, among other features, analyses apps for viruses.
Pricing
Buying a new phone is likely expensive, but Android and iOS offer affordable and more expensive options. The amount of storage that a phone model has might affect its price.
The Apple iPhone SE retails at $429 for 64GB of storage and is the most reasonably priced iPhone among the best-priced variants.
The Google Pixel 5a costs only $20 more than comparable Android phones and offers 128 GB of storage and a second back camera. 
Samsung manufactures some of the greatest Android smartphones available today, providing cutting-edge technology at a cost that accurately represents its superiority.
The Samsung Galaxy Z Fold3 is the most expensive Samsung phone, starting at $1,799.99 and offering an astounding 256 GB of storagThethe Apple iPhone 13 Pro Mcosts at $1,099 offers 128 GB of storage.
Both gadgets have comparable cameras and screens. However, Fold3 has a larger screen. Android and iOS provide phones with various price points depending on your needs.
Customization
The customization experiences offered by Android and iPhone are different. Android offers users a variety of customization options for their devices. 
They may add widgets to personalize the home screen, download themes to alter the interface's appearance, and change settings like font size, display brightness, and even the power saving mode.
On the other hand, iPhone users need more ability to customize their gadgets. They can rearrange the apps, change the wallpaper, modify the font size, and display brightness options on their home screens. 
In contrast to Android users, they have fewer capabilities.
Voice Assistants & AI
Two of the most well-known voice assistant systems are Google Assistant and Siri. 
Using Google's artificial intelligence platform, Google Assistant may be used on Android phones to play music, create reminders, answer questions, handle home automation devices, and more. 
However, Apple created the speech assistant Siri specifically for iPhone owners. It can play music, set alarms, check the weather, and answer questions. 
It can comprehend what people are saying and reply appropriately because of its strong natural language processing capabilities.
There is no question that Google Assistant is superior to Siri in this comparison. 
In addition to being a voice-activated search engine, Google Assistant is a practical tool that may improve your daily life by combining Google services like Calendar and Maps.
Suppose traffic is on your route while racing to meet someone for lunch downtown. In that case, Google Assistant will inform you using your location in advance, which is extremely useful.
Though Siri may have been released first, it is still a simple artificial intelligence assistant. Even though it may be effective for answering questions, it needs to catch up regarding AI skills.
Read Also: The Best Smartphones for Seniors in 2023
Now considering these criteria stated above, one can't really say for sure which Operating System is best. However, according to the Crittercism Mobile Experience Report, released in March 2014, Android KitKat is more stable than iOS 7.1.
Among the report's other conclusions are:
iOS 7.1 has a 1.6% crash rate, while iOS 7.0 and iOS 5 have rates of 2.1% and 2.5%, respectively.
The total crash rate for Android 2.3 Gingerbread is 1.7%. Other Android versions, such as Ice Cream Sandwich, Jelly Bean, and KitKat, have a crash rate of 0.7%.
Android and iOS phone versions are more stable than tablet versions.
App crash rates differ by category: games have the highest crash rate (4.4%), while e-commerce applications have the lowest crash rate (0.4%).
Conclusion
To summarize, Android and iPhone have distinctive features and functionalities that appeal to various people. Android devices have more apps available and a more customized UI. 
But it might have lesser battery life and be less secure. The iOS interface is more consistent, and its app store is better organized. 
However, it might need to be more capable of processing speed and app choices. Ultimately, your preferences and needs will determine whether you choose an iOS or an Android smartphone.