Before switching to your new phone, you'll need to ensure that all the critical data on your last phone has been backed up to the cloud.
This includes the Do Not Disturb settings. Google then automatically backs up contacts, call logs, texts, and other data.
Use your Google account to log in while configuring your new phone so you can access all the saved data. This includes messages, phone calls, papers, images, and news.
The great news is that Google gives Google Drive 15GB of free storage, so you don't need to be disturbed about running out of space. 
This function backs up app data, call history, device info, contacts, home screen settings, and text messages. 
Therefore, checking to see if this data is already in the cloud before switching to a new phone becomes sense.
Also Read: How to design an intuitive user interface
Step-by-step guide on how to Backup your old smartphone's data
Have you got a new phone?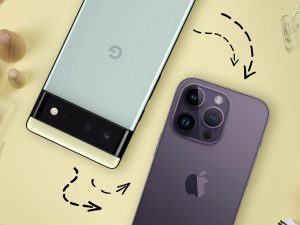 Do you want to be sure your old smartphone phone's data is securely transferred to your new one? Then follow the steps below.
1. Access Settings from your apps or the Quick Settings menu.
2. Navigate to the page's bottom by scrolling down.
3. Select System from the menu.
4. Select Backup.
5. Verify that the Backup to Google Drive toggle is turned on.
6. Press Backup to sync your phone's most recent data with Google Drive.
It is also essential to check contacts.google.com to see if all of the contacts on your old phone have been transferred to your Google account. Your new phone will only have the connections listed on this page.
Another thing to check is if Google Photos is backing up your images and videos first.
How to get your old smartphone to backup images and videos 
Google Photos is a fantastic tool for archiving images and movies. It smoothly backs up data, provides flexible sharing restrictions, and intelligently groups face using on-device machine learning.
In addition, you can maintain the original quality of your images and videos.
Your images and videos can be saved at their original quality, the quality they were initially captured, or you can choose Storage Saver to keep the same degree of detail while condensing the file size.
This is a fantastic alternative since Photos no longer allows unlimited uploads. Once your storage is full, you must purchase a Google One subscription.
It is the best method for backing up your Android phone's photographs and movies. 
You can access your photographs and movies from your new phone and the internet once the data has been saved up to the cloud. 
Here's how to get backed up on Photos if you haven't already
1. Start your phone's Google Photos app.
2. On the screen's top right, click on your profile picture.
3. Pick the Photo Settings option.
4. Choose Sync & Backup.
5. Verify that the Backup and sync toggle is turned on.
6. Ensure that High quality is selected for the Backup mode.
Also Read: The Best Smartphones for Seniors in 2023
After your images and videos have been securely backed up to Google Photos, Your information is safely transmitted to the new device using a direct data transfer technique.
You won't need to input your Google account password or two-factor authentication. You can begin configuring your new phone after the data has been successfully backed up. 
You'll then see the Play Store running in the background and recovering data from your old phone after setup is complete and you reach the home screen.
While configuring the remaining settings on your new phone, you can wait for it to finish. The amount of content installed on your previous smartphone and your internet connection will determine how long this procedure will take, up to an hour.
You can restore your files and data from your online backups if something copies incorrectly. Yet, this approach begins with configuring your new phone properly.
Your new smartphone is now excellent and ready to go. Just as simple as that. There you have it, a guide to seamless and hitch-free data transfer.
Now that your texts, call logs, contacts, music, and images have been flawlessly transferred to your new phone, let's get started!