These days, smartphone users are very particular about the camera quality of their mobile phones. This means that smartphones that can take good-quality pictures are topping the charts. 
Thank goodness, new camera specifications and functionalities come with every smartphone upgrade. However, choosing a smartphone from the thousands of available phones might be challenging. 
Especially as most of them claim to offer an excellent camera, of course, not all smartphones are equal, particularly regarding camera quality. 
To help with this, we have compiled a list of some of the greatest top-tier smartphones with topntop-notcheras for photography that are currently on the market in 2023.
Read Also: How To Make Your Smartphone Last Longer
6 best smartphones for photography enthusiasts in 2023
Which cell phone is the best for taking photographs in 2023?
1. Apple iPhone 14 Pro Max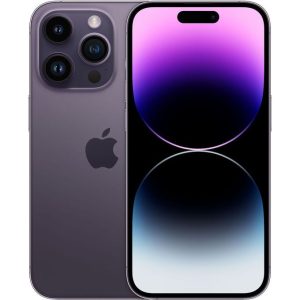 The iPhone 14 Pro Max continues Apple's tradition of excellent iPhone cameras with a few significant upgrades that elevate it to the top of the current smartphone camera rankings. 
It is a triple-camera setup with wide, ultrawide, and telephoto lenses. Still, the 48MP primary wide camera steals the show compared to the previous 12MP sensor.
As a result, photographs taken in low light are now even crisper, with true color lighting. 
Other enhancements include a primary sensor that supports 2x optical zoom and an ultrawide lens that lets in more light for better wide images at night. 
The specialized photo lens only offers a 3x optical zoom, which is not nearly enough.
The dedicated telephoto lens only offers a 3x optical zoom, which is quite adequate. Still, we would have preferred to see at least a 5x zoom to compete with the stunning 10x zoom-equipped Galaxy S22 Ultra and other superzoom rivals. 
You may also find Apple's updated Photonic Engine inside, which now does even better software wizardry to enhance images in medium- and low-light conditions.
Ultimately, if you don't care about hyper zoom features, this is the greatest camera phone Apple has ever produced. 
You can also purchase the less expensive iPhone 14 Pro, which has the same camera functionality as its Max sibling; you're willing to give up a little battery life and screen size.
2. Xiaomi 13 Pro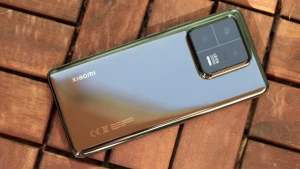 Even while Xiaomi is not the only smartphone manufacturer to have crammed a one-camera sensor into its most recent top-tier model, it is the only one that will currently sell one worldwide.
Oppo and Vivo are happy to remain in China, but the Xiaomi 13 Pro is available for official purchase in Europe. 
All of your portrait photographs will have beautiful depth blur because of the camera's flawless 1-in sensor, and the other cameras are also amazing.
All three cameras have 50MP pixel counts, the telephoto has a zoom of 3.2x, better than the rivals from Samsung and Apple, and the ultrawide also functions as a macro lens. 
Leica's sophisticated image processing enables it to produce stunning images in any lighting. Few competitors are this skilled.
It'sWith a bioceramic surface, high refresh rate OLED display, lightning-quick Snapdragon 8 Gen 2 CPU, and a sizable battery that will allow you to continue taking pictures for several hours (or even days), it's a superb phone everywhere else. 
Although it is a premium smartphone with premium pricing, phone photographers should consider it a cost worth paying.
Read Also: The most anticipated smartphone releases for 2024
3. Google Pixel 7 Pro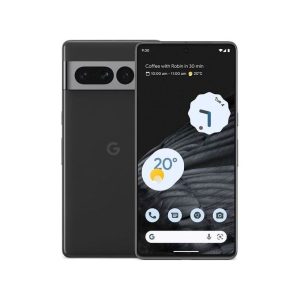 Before the release of the Pixel 6 generation, Google continued to use the same camera hardware and relied on software expertise to get outstanding results. 
Thankfully, the 6 Pro finally brought about some much-needed hardware updates with three new sensors, the most important of which has 50 megapixels. 
It could absorb up to 150 percent more light in every picture due to its greater size than the Pixel 5's primary sensor, which accounts for its excellent low-light performance. 
Naturally, pictures made with all three cameras—wide, ultrawide, and tele—also looked fantastic in bright lighting. 
That still holds for the Pixel 7 Pro, the most recent model.
Thanks to a combination of hardware and Google's continuously improved algorithms, you'll be treated to plenty of crisp detail and low noise, with nicely balanced exposures and correct skin tones. 
The largest improvements are made to the telephoto and ultrawide cameras, with the former receiving a more potent 5x optical zoom and the latter receiving autofocus, which enables it to function as a macro camera.
Motion Mode and Magic Eraser are two other software techniques. 
The former clear the grounds of people and objects for less cluttered photos. At the same time, the latter imitates the long-exposure tricks that real cameras use.
4. Samsung Galaxy S23 Ultra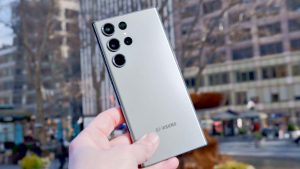 The S23 Ultra replaces the 108MP primary camera of its predecessor with a 200MP one that is even more pixel-dense.
Additionally, it includes two 10MP telephoto lenses, among which have a 3x zoom and another a 10x zoom, along with a 12MP ultra-wide lens. 
Our research substantiates Samsung's assertion that the S23 Ultra's shooting experience is exceptional because of a new imaging NPU (neural processing unit). 
One of the best smartphones currently available, this is the best Samsung smartphone camera experience to date.
Shots in bright and dark environments are fantastic, with Samsung's hardware and software working together to transform day into night seemingly effortlessly. 
But the S23 Ultra stands out for its incredible flexibility, made possible by the periscope camera configuration that allows for that extraordinarily generous 10x optical zoom. 
It's so good that we could take a detailed picture of the moon at 85x zoom, a feat that no other smartphone on our list can even match.
The S23 Ultra is one of the top smartphones for photography in any condition because of its excellent all-around performance and additional features, such as an incredible zoom.
5. Sony Xperia 1V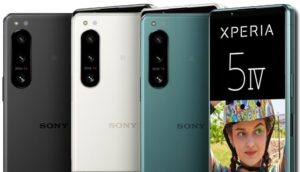 The abundance of iPhones and other less expensive Android smartphones may cast Sony as an expensive outlier in the smartphone market.
Still, for ardent photographers and videographers, its premium handsets have always offered something a little different. 
The top-of-the-line Xperia 1 V is no exception, with a triple rear camera configuration, a brand-new 52MP lead sensor, and twin 12MP backup cameras. 
It performs significantly better in low light than its predecessor while focusing quickly, making it the perfect option for people who wish to get clear pictures of restless kids or animals.
With its variable zoom lens, you may adjust the optical zoom levels from 3.5x to 5.2x. 
When using the Pro mode and adjusting settings until you achieve some stunning results, as is anticipated from Sony mobile devices, you'll receive the best results from the cameras.
This ranks among the best and most distinctive smartphone cameras. It is costly and not intended for casual users who want to point-and-shoot with AI-optimized results.
Also Read: The Best Smartphones for Seniors in 2023
6. Google Pixel 7a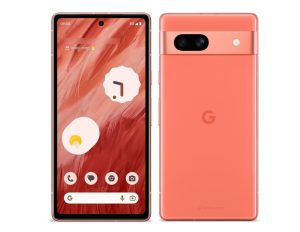 With features from the more expensive Pixel 7, Google has moved the Pixel 7a upmarket from earlier A-series phones. 
Although the 64MP primary camera sensor is a custom design, the pixel-binning techniques utilized to enhance low lights align with that design. 
It's one of the best photography experiences you can have for the money when combined with the company's generally outstanding software.
Dual snappers are optimized to their full potential by powerful algorithms. As a result, both cameras produce rich detail images, are beautifully lit, and are free of intrusive noise. 
They also work well in low light. Auto HDR performs a fantastic job of exposing bright skies without sacrificing information in shadows, and autofocus is snappy. 
The accuracy of skin tones is also outstanding, thanks to Google's use of the Real Tone algorithm.
Although the lack of a dedicated telephoto (also known as a zoom) camera is to be expected at this price point. You still receive the same software features as the more costly Pixel 7 Pro (such as Magic Eraser); it's difficult to find fault.
Things to Consider when Choosing a Camera Phone
If you truly love taking pictures and love to showcase your creativity and originality, whether they are of people, places, or anything else, you should consider the following:
1. Sensor
Like the processor is the heart of the smartphone, the sensor is the camera's beating heart. If the sensor captures an image beautifully, you'll get the fantastic result you're looking for.
Better photos are taken, and more light is captured by a decent camera phone with a large sensor. Low-light performance, color vibrancy, and image sharpness all advance with better sensors.
The Xiaomi Mi 11 Ultra has a sizable 1-inch sensor, the largest smartphone camera sensor currently on the market.
Larger sensors are better at capturing light than smaller ones. Because of this, an 8MP camera with a larger sensor can perform better than a 13MP camera with a smaller sensor.
When selecting an excellent camera phone, this is the most crucial consideration.
2. Pixel size
Pixels in the camera record the light that comes into the device. A sensor with more pixels allows more light to pass through, which lowers digital noise.
Even in low-light conditions, images will have the correct exposure. The Galaxy S20 and Google Pixel 6 are excellent camera phones with some of the largest pixel sizes.
3. Megapixels
Your camera's megapixel count is expressed as several pixels. It establishes the resolution, or level of detail, in an image.
More megapixels are necessary for enhanced definition when printing and exhibiting your photographs. Also, increasing the number of megapixels in a sensor will result in smaller pixels.
To make up for this, a decent camera phone typically uses pixel-binning technology, which unifies data from several pixels into one.
With a 108MP 1/1.33 sensor on the Galaxy S20 Ultra, pixel merging transforms nine 0.8-micron pixels into one 2.4-micron pixel, producing sharp, detailed photos.
Additionally, the primary camera of the Xiaomi Redmi K40 Pro+ is 108 MP.
4. Lens & Shooting Modes
The newest camera phone also has an ultra-wide-angle lens that gives a broader field of view than the primary camera and is perfect for taking pictures of landscapes.
The telephoto lens on smartphones makes up for the absence of optical zoom. Depth sensors are excellent for portrait photography because they enable you to concentrate on the subject.
Many cameras have a macro lens, making it easier to take up-close, sharp, and detailed pictures of minute objects. The most recent Android smartphones come with a variety of shooting options.
Some often used features that help to enhance picture quality by modifying lighting conditions are ISO adjustment, white balance, and exposure compensation.
5. Aperture
Nearly all mobile stores showcase smartphones for pictures, which draw a lot of attention owing to their attractiveness and various sizes, forms, and displays.
You can regret your decision if you don't pick your camera phone carefully. if you enjoy taking selfies and other types of photographs.
Always base your choice on how well you comprehend your smartphone. A good camera phone doesn't have to cost a lot of money. Additionally, not all expensive smartphones have the best cameras.
Play around with the aperture size if you love bokeh in your shots.
Read Also: The Future of Foldable Smartphones: What to Expect in 2024
6. Zoom
There are two types of zoom available on a smartphone camera: digital and optical. The zoom feature is useful for snapping pictures at a distance.
Digital zoom is a software technique that enlarges and crops a specific area of an image, often producing pixelated results.
The term "optical zoom" refers to the real optic lens (hardware) used by a camera to close the distance between it and the subject.
An optical lens generates a better-zoomed image as a result. Digital lenses are preferred over optical lenses when it comes to picking an excellent camera phone.
Nearly all mobile stores showcase smartphones for pictures, which draw a lot of attention owing to their attractiveness and various sizes, forms, and displays.
Conclusion
You can regret your decision if you don't pick your camera phone carefully. Always base your choice on how well you comprehend your smartphone.
A good camera phone doesn't have to cost a lot of money. Additionally, not all expensive smartphones have the best cameras.