Mobile devices have mostly taken over our daily lives for many of us.
Beyond keeping in touch with loved ones, cell phones also assist us with various tasks, such as providing directions in unfamiliar regions, updating us on the weather, and even tracking our daily exercise.
However, they are sometimes the easiest to utilize. The sheer number of options and apps presently accessible on most smartphones makes their user interfaces busy, challenging to navigate, and frequently lacking instructions.
Most significantly for senior citizens. However, several smartphones are very much easy to use for older people. 
And so, here's a list of the top smartphones for seniors from reputable manufacturers like Samsung, Apple, Nokia, and Motorola.
It is essential to note that everyone will have slightly different priorities when picking a smartphone. 
Your phone choice will ultimately depend on how you want to use it, how regularly you'll use it, and how much you may spend.
When looking for a smartphone for older users, a few general aspects are essential to consider. These consist of a sizable, bright, and vibrant display, a user-friendly user interface, and a good selection of accessibility settings.
Things to Note when Picking the Best Smartphone for Senior Citizens
Here are some things to note when picking the best smartphone for senior citizens;
Consider features that are age-friendly
This is very important. You should check whether Google, Siri, or another virtual assistant is available. Older folks with trouble with their hands or eyes may prefer to give orders verbally.
A pleasant user-friendly interface is also essential. The two most familiar user interfaces are Android and iOS (Apple). 
Only iPhones were intended for use with Apple's iOS. Thus, crucial iPhone apps like those for calls, Safari (Apple's web browser), and iMessage are frequently placed across the bottom of the screen. 
However, if there is an app you feel you use more frequently, you can replace these and download other apps from the App Store.
The most popular interface is Android, available in phones from companies like Google, Samsung, Nokia, and Oppo. 
Although each manufacturer may tweak the home screen to offer its distinctive design, the fundamentals will be the same across all these products.
For instance, Google Play, through which you may download new apps, is available on all Android smartphones.
Price and quality 
The brand, version, and features that a phone has determined its cost and level of quality. While less well-known cell phones can be far more reasonable, an Apple iPhone can cost anywhere from $399 to over $1,000.
Certain glass phones are more prone to break and must be replaced. In contrast, a cheaper, more ergonomic alternative may be better. 
Using a phone case and screen protector is also an excellent method to protect a valuable investment. 
It should be noted that service providers may also provide phone bargains to entice customers to sign up for the service or sign a contract. Phones can also be leased rather than purchased outright.
Larger and vibrant screen
The size of cell phones has undoubtedly increased over the past ten years. While most cell phones have overgrown our pockets, as a result, this does mean they are getting more extensive and more detailed. 
The goal is to strike a good compromise between the two: to achieve the most prominent, highest-quality display possible without making the smartphone too heavy to carry around.
Battery power
The battery life of a smartphone should last 12 hours, ideally 24 to 48. As a battery is charged and discharged over time, battery life decreases, and setting a phone as regularly as possible is typical.
A phone's brand, version, and features affect its cost and level of quality. For example, although lesser-known telephones can be much more affordable, an Apple iPhone can cost anywhere between $399 and over $1,000.
Smartphone screen sizes can now range from 4.7 inches to 6.7 inches.
Accessible options
Modern smartphones for seniors should come with the bare minimum of accessibility options. However, the specifics will vary from brand to brand.
Most offer speech-to-text capabilities, assistance for hearing aids, and they can change the font size for easy reading. 
In addition, many now allow you to record brief messages comparable to voicemails and send them by text or messenger rather than typing them out.
There are also specialized companies who design mobile phones with older people in mind, like Doro. 
These often have the broadest range of capabilities. 
For instance, the Doro 8050 has extra-large symbols for those with vision impairments, support for hearing aids, and a "Response" button that, when pressed, immediately alerts chosen "responders."
Although not everyone will require all of these capabilities, they differ between models, so it is essential to think about which if any, additional settings you prefer before making a purchase.
Read Also: Top 8 Trends in Mobile App Development for 2023
The best smartphones for seniors to buy in 2023
All these features will only be necessary for some. Still, they vary between brands, so considering which additional settings you may like before purchasing is worth considering.
The best smartphones for seniors to buy in 2023 are;
1. Nokia 3.4, £114.99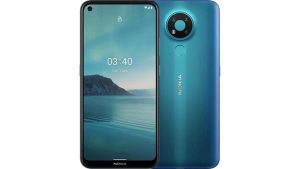 Key features
39-inch 1560 x 720 IPS LCD screen

161 x 76 x 8.7 mm

180g

Android 10

13/5/2MP rear cameras

8-megapixel selfie camera

Snapdragon 460 CPU

32GB storage

3GB RAM

4000mAh battery
The Nokia 3.4 is the kind of low-cost, straightforward phone that Nokia has built a reputation for producing. Additionally, it includes a wired headphone jack.
There are several restrictions, just like with every smartphone in this price range.
However, the significant difference is that while it is over £1,000 cheaper, the cameras don't exceptionally provide the 108MP of the Samsung Galaxy S21 Ultra.
Pros
Cons
Slow performance

Limited storage

Uninspiring camera quality
2. Google Pixel 7, £465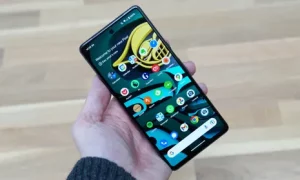 Key features
Google Tensor G2 chip

6.3-inch AMOLED display

Corning Gorilla Glass Victus

Android 13

IP68 dust/water resistant

90Hz AMOLED display

8GB of RAM

128GB or 256GB of storage
Google Pixel 7 is also suitable for senior users and those needing more smartphone experience. It offers one of the best straightforward user interfaces, a clutter-free home screen, and an alphabetical list of apps in the pull-up menu.
Beyond this, the Google Pixel 7's camera is its strongest selling feature. Even if you are unfamiliar with smartphone cameras, Google's image processing software makes it simple to capture excellent photos.
Additionally, the IP68 designation for water and dust protection provides assurance.
Pros
Amazing camera

Speedy new processor

Brilliant value

Google software and Google hardware combine with great results

Slick interface and user experience

Accessible and easy to use
Cons
Display only 90Hz

No optical zoom

Unremarkable fast-charging
3. iPhone SE, £499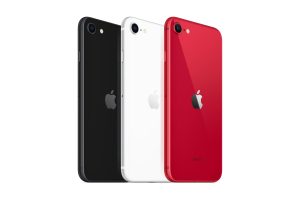 Key features
Glass and aluminum design

4.7-inch retina display

A13 Bionic chip

12MP wide camera

Portrait Mode and depth control on the camera

4K video

QuickTake – this means you can start recording by just holding down on the shutter

Touch ID

1,821mAh battery

Water-resistant up to 1 meter for 30 mins

Apple Pay
The iPhone SE, marketed as the 'cheap' iPhone, is smaller than models like the iPhone 14 Pro.
As a result, the iPhone SE, which has a 4.7-inch display, doesn't quite have all the features of the flagship model, but that doesn't mean it should be ignored either.
The user experience is still excellent. For example, you can access the same Apple-only apps like iMessage and FaceTime because it uses the same A13 Bionic CPU as the iPhone 11 Pro.
Pros
Lightweight

Access the App store to plunder

iOS experience is seamless

Camera results excellent
Cons
Fairly short battery life

It uses some old screen tech

Portrait mode does not work on pets and objects
4. Oppo A54 5G, £149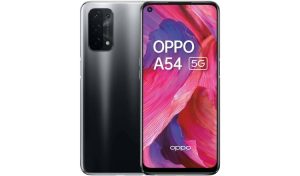 Key features
Snapdragon 480 CPU

4GB RAM

64GB storage

6.5 in 1080p 90Hz screen

162.9 x 74.7 x 8.4 mm

190g

48/8/2/2MP rear cameras

16MP selfie camera

5000mAh battery
A full day of errands may be quickly completed on the Oppo A54 5 G's battery, with some juice left over.
Because of this, the A54 is an attractive choice if you prefer to avoid recharging throughout the day or forget to charge your phone at night (we hate it when that happens).
The HD screen measures a respectable 6.5 inches. The phone features five cameras in total, but the primary 48MP camera is the one that deserves attention because it responds so quickly and doesn't lag when you hit the shutter button or when focussing.
Although the design is somewhat plasticky, a 5G phone at this price point often has a surface that is less prone to scratch or wears down significantly than a glass or metallic one.
Pros
Low price for a 5G phone

Nice sharp screen

Long battery life

Solid primary camera
Cons
Plastic build – typical in this class

Weak secondary cameras

Mono speaker
Read Also: The Impact of app store optimization on mobile app success
5. Moto G50, £174.97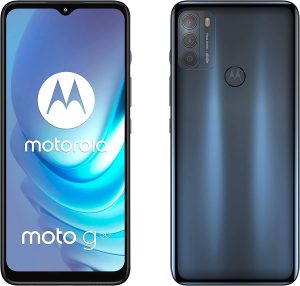 Key features
64GB storage

6.5-inch

192g

5000mAh battery

Qualcomm Snapdragon 480

5G CPU

5G mobile internet

Android 11

4GB RAM

13MP front camera

48/5/2MP rear cameras

164.9 x 74.9 x 9 mm
The Motorola Moto G50 is a budget-friendly smartphone that excels at the essentials. Although none of the features are revolutionary, it offers dependability and simplicity.
The phone's 6.5-inch screen is large enough for video chats or watching TV and has a primary, transparent silicone case. 
Another smartphone that quickly has a battery life of a day and a half. Our reviewer frequently found that they still had 40% of their battery life.
Pros
Decent, if mono, speaker

Low price for 5G

Excellent battery life
Cons
Basic camera array

Low-resolution screen

It's not a gaming powerhouse
6. Samsung Galaxy A32 5G, £239.99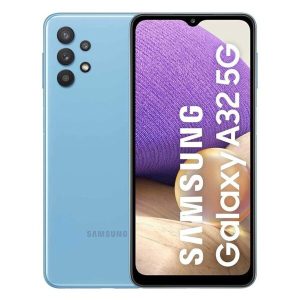 Key features
5G

6.5-inch LCD

48/8MP rear camera
13MP front camera
4K video
64GB storage
MicroSD card for expandable storage
5000mAh battery
Headphone port
Consider considering a Samsung Galaxy phone if you already own Samsung gadgets like the Samsung Galaxy Tab S7 Plus or Samsung Galaxy Watch 3.
Since you're already familiar with the software Samsung utilizes, and there will frequently be an overlap in layout or design aspects, it should be a little easier for you to become acclimated to it.
A member of Samsung's more cheap A-series, the Galaxy A32 5G has a 6.5-inch LCD screen, a 4K video camera, and a sizable 5000mAh battery.
Pros
3.5mm headphone port

Large display

Big battery

5G ready
Cons
It might be a little hefty.
Read Also: The Impact of app store optimization on mobile app success
7. Xiaomi Redmi Note 10 Pro, £180.23

Key features
Curved toughened glass back panel

6.67 in 120Hz OLED screen
Snapdragon 732G CPU
128GB storage
108MP/8/5/2MP rear cameras
16MP selfie camera
It's still possible to purchase everything for a shockingly reasonable £180.23.
The smartphone is a terrific tool for watching videos or making video chats. Still, the 6.67-inch display does make it a bit bulkier. Although not for everyone, the Xiaomi Redmi Note 10 Pro is an excellent low-cost smartphone.
Pros
Large OLED screen

Classy glass back
Macro camera
Good primary camera
Long battery life
Cons
No 5G

Maybe a little big for some 
8. Realme 8 Pro, £279
Key features
Four rear cameras, including a 108MP sensor

Mid-size 6.4-inch OLED screen
4500mAh battery with ultra-fast 50W charging
It has a headphone jack
Some features of the Realme 8 Pro, which costs less than £300, are frequently found in smartphones that cost twice as much. These include a 108 MP back camera and a quad-camera array with a full HD OLED display.
It has a vivid 6.4-inch screen and charges completely from zero in less than an hour. 
The latter is crucial if you have to quickly leave the house or remember to plug your phone in to charge at the end of the day.
The large 'dare to leap' phrase on the phone's back is the only thing someone might find offensive.
Pros
The primary camera takes good photos

Competitively priced
Fairly long battery life
Bright display
Cons
Three out of the four rear cameras are weak

Plus-size rear slogan won't suit all tastes
Mostly plastic build
9. Xiaomi Poco M3 Pro 5G, £199.99
Key features
Future-proofed with 5G connectivity

161.81mm x 75.34mm x 8.92mm
6.5-inch FHD+ LCD(2400 x 1080)
90Hz screen refresh rate
MediaTek Dimensity 700 chipset
5,000 mAh battery
48 MP main camera, 8MP selfie camera
Side fingerprint sensor and face unlock
Bluetooth 5.1
3.5mm headphone jack on top
It is another smartphone with respectable battery life to start. The phone may be used throughout the day and still have 50% of its charge the next morning.
The Xiaomi Poco M3 Pro is an excellent option to ensure your phone won't die on you in the middle of the day.
Second, the big 6.5-inch Full HD screen is a standout. The Poco M3 Pro has a "reading mode" that lowers blue light and adapts colors to warmer tones—an excellent choice for more subdued lighting.
Pros
Great value for money

5G connectivity
Smooth 90 Hz display
Long-lasting battery
UI is nice once tidied up
Cons
Large logo on the back

Too much pre-installed software
The battery charges slowly
10. Doro 8050, £159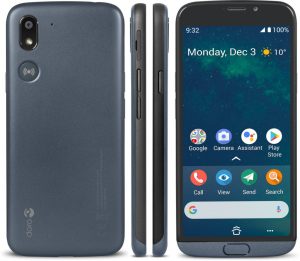 Key features
5.5-inch screen

Android
13MP rear camera
5MP front camera
Dedicated home button
Assistance button to call friends/family quickly
16GB storage
MicroSD card slot
Doro specializes in producing cell phones for senior consumers who might have more specialized accessibility requirements.
The phone includes built-in screen protection to withstand a few bumps and falls in addition to a "Response" button that, when pushed, alerts specified "responders."
While not in use, the Doro 8050 has a standby time of up to 330 hours (or 13 days). 
This is a better option for an emergency device or if you know you'll only use it for calls or brief outings.
The Doro 8050's 5.5-inch screen has a tiny size. Compared to most other items listed above, it has differing camera specifications. Even so, it is hearing aid compatible, and it has one of the user-friendly and most straightforward interfaces.
Pros
Long battery life

Easy to navigate
Built-in screen protection
Cons
Bulky compared to competitors

Poor camera quality