Thanks to technological advancement, you can now make purchases without needing cash. Usually, hard currency or a debit/credit card is required to pay for items such as a cup of coffee, a tank of petrol, a hotel stay, or a new laptop. 
However, there is a new method of payment that does not require currency or a cashier. This new method is called a Mobile payment system. It is often known as contactless payment.
It simply pairs a card with a mobile smartphone to enable card-free purchases.
How do mobile payments work?
It is the newest form of digital payment. Mobile payments have the advantage of being practically entirely cashless. Customers can add their card information to a mobile payment app that they download on their devices.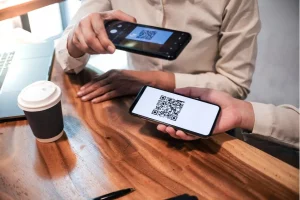 These devices include smartphones, tablets, laptops, wearable tech, smart TVs, linked cars, watches, and homes. 
The mobile device can be utilized for various purposes, including paying for purchases, getting cash from an ATM, getting a cash advance from a credit card, checking the balance on a credit card, and proving one's identity for financial transactions.
Mobile wallets and mobile money transfers are examples of transactions that can be done using mobile devices. By 2027, the global market for mobile payments is anticipated to reach $8.94 trillion. 
A mobile payment is a monetary transaction performed using a mobile device for a good or service. 
For instance, you can use mobile payment technology to send money to family and friends and pay for goods and services using apps like PayPal and Venmo.
In-store mobile payments can also be made by scanning a barcode using an app on your phone. This method is accepted by convenience stores as well as significant international businesses.
A pre-loaded amount on the account linked to the specific retailer may be used to cover the cost of the transaction or can be paid using a debit or credit card. 
It is considered a safer payment option than a debit or credit card because payment information is encrypted during transmission.
Mobile payments function similarly to credit cards but don't require pulling out your wallet or purse.
The rise of Mobile Payment platforms
Before becoming more ubiquitous in the US and Canada, mobile payments first gained popularity in Asia and Europe. 
Mobile payments were initially sent by text message. Later, technology made it possible to take photos of checks using a cell phone camera and send them to the person receiving payment. 
Eventually, this technology evolved into mobile check deposit features for banking apps.
Since 2014, apps like Apple Pay 2 and PayPal 1 have been created that enable payment by swiping a smartphone screen showing a unique barcode past a retailer's barcode reader. 
Additionally, they enable fast payment by allowing users to tap their phone against a contactless credit card terminal.
Competitors of Apple, including firms like Google and Samsung, quickly created applications and launched their mobile payment apps in the aftermath of Apple Pay's popularity.
Most banks now allow clients to send money instantaneously to friends and family members from their bank accounts thanks to technology that has been recently integrated into several banks' banking apps.
Read Also: The rise of augmented reality apps for shopping
Convenience
We constantly have access to our smartphones because we carry them everywhere we go. This ranks among the simplest ways to pay for goods and services.
You can pay your bills, make online purchases, and place orders with just a few touches on your smartphone. Apple Pay, Samsung Pay, and Google Pay are well-known mobile payment applications. 
Scan a QR code to finish your payments quickly and avoid standing in line at the billing counter to pay your invoices. You can also send and receive digital person-to-person payments via mobile payment apps.
You can send gift cards or transfer money to the other person from your bank account using several payment apps, including Zelle, Venmo, and PayPal.
The physical wallet or purse is no longer a necessity.
Time-saving and security
Smartphones have helped to save time when it comes to payment transactions. Mobile payments are more secure than a conventional credit card with a Touch ID, which can be used to scan a fingerprint or enter a PIN. 
This is an excellent feature of smartphones. The smartphone service generates unique security codes for each transaction, making this payment option far safer than an actual card.
Mobile payments for in-store purchases are 100 percent secure. 
Digital wallets use Near Field Communication (NFC) technology to let clients touch or wave their phones over a POS terminal to make a transaction. 
Customer data is secure during transactions because payment apps use encryption and protected codes. 
Payment applications also save your credit card information digitally, lowering the likelihood that you would misplace these payment methods. 
You do not need cash or credit cards while making mobile payments. Your mobile wallet is well protected even if your phone is lost or stolen since it contains security features that ensure no one else can access it.
Mobile payment systems include additional security measures, including fingerprint scans, password protection, and facial recognition, to maintain data security and thwart fraudulent activity. 
Compared to conventional payment methods like cash or Visa, or MasterCard credit/debit cards, mobile payments are safer and easier to use.
Mobile payments offer an extra layer of privacy protection for users with bad credit and credit cards with low limits and high APRs who would not want an interviewer or potential date to know these details.
Speed
Processing mobile payments is quick and straightforward. Your transaction is finished with a simple tap or wave of your smartphone before an NFC terminal. 
These payments are quick and straightforward because you won't swipe or insert your credit card into a reader. 
You won't need to provide personal data when using a credit card to make payments, such as your card number, password, or expiration date.
Since mobile payment apps are tokenized, they don't save or distribute your credit card information. When you first enter your card information in the app, the app checks your information with your bank. 
Then, a token is used in place of your private data.
Wide recognition
Many stores now accept mobile payments, and many more are quickly integrating this technology. 
Due to the seamless integration of digital wallets with mobile apps and software, customers can easily keep track of their spending.
Electronic receipts that assist customers in keeping track of their spending are also available from retailers.
With mobile payment options, you may rapidly finish transactions while driving for various services, such as paying your power, water, and Wi-Fi bills, buying groceries, and purchasing tickets for flights and movies.
According to statistics, mobile payment platform users number up to 2.3 billion.
Mobile payments have become increasingly familiar with the advanced rise of smartphones, Wi-Fi networks, high-speed mobile internet, and e-commerce.
The Future of mobile payment platforms
About 4 billion people are estimated to have mobile wallets by 2024, and the annual volume of transactions through mobile wallets is predicted to increase to $9 trillion. 
Mobile payments' popularity is growing for various reasons, such as safe transactions, fast payment methods, etc. The most important reason is the accessibility and availability of smartphones. 
Adding securely stored credit card information to a mobile wallet is simple on a smartphone. This makes mobile payment transactions as easy as reciting a nursery rhyme.
With smartphones, the world is indeed at our fingertips.