A smart home product can be operated by voice or an app. Most smart home appliances include voice control connections to several smart home assistants, including Amazon Alexa, Apple Siri, and Google Assistant.
For example, you can change things like volume or temperature using an app or your voice to turn things on and off.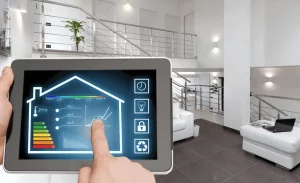 These gadgets can also communicate with other smart appliances in your house, enabling them to work together and complete tasks without your involvement.
Thanks to Smart home technology, your home will benefit from an added degree of ease and convenience. Because you can now utilize your smart plug to handle it, you no longer need to be concerned about a coffee maker or curling iron being left on.
Keep the light on? Check the app to switch off the lights while you are away to save money.  Numerous businesses, including industry behemoths like Amazon and Google, produce smart home appliances.
However, plenty of other excellent companies focus on particular devices. For example, there's Philips with its Hue lighting, SmartThings with its home automation system, and Wyze with its smart plug.
Look for a brand that produces high-quality items before purchasing a smart home appliance.
With so many home products available with smart capabilities, it can take time to figure out where to start. This is the reason our post is here to assist you. Below is a list of them:
Aeotec Smart Home Hub ($135)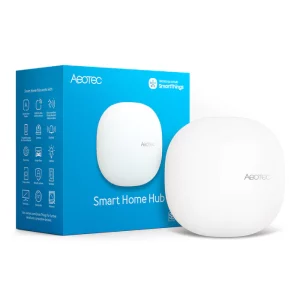 This smart home hub lets you easily control your devices with voice commands. Furthermore, it can link to some of the top smart home appliances, such as bright lighting, smart speakers, and intelligent cameras.
Moreover, it supports more than 5,000 different devices from different manufacturers. In addition, the smart hub is conveniently available in the optimal location for you and your devices, thanks to a direct wall mount.
Once your devices are added, creating and managing automations is a breeze. Set a timer for the morning to start the coffee maker or switch on the outdoor lights.
Regardless of the commands you select, these automatons are saved locally to avoid disruptions due to internet outages. To begin, pick between a Wi-Fi or an ethernet connection.
Features of the Aeotec Smart Home Hub
The SmartThings hub

Bluetooth, Wi-Fi, Zigbee, and Z-Wave connectivity
Alexa, Google Assistant, and Bixby are the used voice assistants.
Pros
Fantastic compatibility

Several connections
Impressive user interface
Cons
Arduous setup process

Not Siri compatible
Amazon Echo Dot ($50)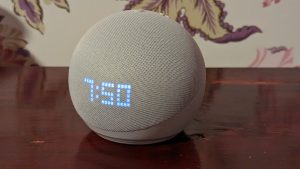 The sound quality of the Amazon Echo Dot is better than that of earlier generations, making it one of the top Amazon Echo models.
Enjoy clean highs, sharp notes, and deep bass for a better listening experience than portable speakers. In addition, you can transform your house into your performance venue by adding compatible Fire TVs or Echo devices.
With an Eero network, you can minimize internet and streaming disruptions while increasing Wi-Fi coverage across your house.
Numerous well-known services, such as Spotify, Apple Music, and Amazon Music, are compatible with this speaker. Additionally, you can eschew these services and connect directly throughout your home using Bluetooth.
Alexa is available to assist with hands-free voice control in either case. When you enter the room, the speaker can detect motion, turn on the lights, and activate your smart fan to help regulate the temperature.
To help with those early mornings, it also includes an alarm built in. The Echo Dot uses Amazon's rigorous privacy policies to protect your information, which is lovely for privacy.
The handy Mic Off button is one of the many privacy options intelligently added to this model. To upgrade your home's audio system wirelessly. Turn up the music with voice control to host a party in your house.
Features of the Amazon Echo Dot include
Additional sensors – euro

LED display with built-in Amazon Alexa
Pros
A lot of features

Af

fordable
Fantastic ecosystem
Cons
Sporadic connectivity

Poor audio quality
Amazon Echo Show 8 (2nd Generation) $130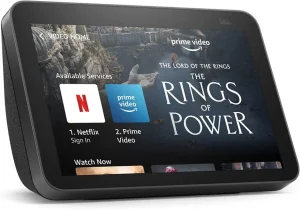 One of the greatest smart home appliances and best smart displays you can now get is the Amazon Echo Show 8 (2nd Gen). A stereo set of speakers and an eight-inch HD color touchscreen are also included.
There is even a 13 MP camera, so you can check in while you are gone and conduct video calls whenever you like. By automatically framing and centering images while it is in use, the camera helps keep you in the picture.
You can also link to additional smart home appliances like lighting and cameras with compatible voice control. There is also room for enjoyable things.
When using services like Prime Video and Netflix, you can stream your preferred media or ask Alexa to launch Apple Music, Spotify, or Amazon Music. Also impressive are the automations.
To ensure that you never forget an appointment:
Create a calendar and add reminders.

Make lists, set alarms, and practice cooking by following step-by-step instructions.

Use Amazon Photos to turn your gadget into a digital photo frame when not in use. 
Amazon's strict privacy regulations are also used by the Amazon Echo Show 8 (2nd Gen), which has a microphone, a camera off button, and a built-in camera shutter.
Use it to monitor your entire house and all your smart home appliances.
Features of the Amazon Echo Show 8
 Alexa-compatible

8 inches Screen
Dimensions: 1280 by 800
1 x 1.7-inch speakers
2MP camera
Pros
HD visuals

Excellent camera
Extra-large HD display
Cons
Poor Zoom

No rotating feature
Philips Hue White & Color Ambiance Starter Kit ($90)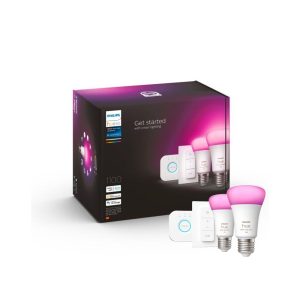 In addition to being the most fantastic Philips Hue lighting currently available, the White & Color Ambiance Starter Kit is some of the most stylish lighting ever seen.
You can effortlessly modify your house using lovely LED mood lighting that can be dimmed. For example, incorporate cozy, calming colors into a nursery or turn your living room into a home theater.
In any case, you get a Hue bridge to control up to 11,000 lumens. This beginning set gives excellent lighting with 50,000 various hues of white alone and comes in the classic A19 bulb size.
Also Read- How to choose the right fitness tracker for your needs
Additionally, 16 billion multiple colors are available for a breathtaking light display. When you link Amazon Alexa, Google Assistant, or Apple HomeKit, you can use your voice to control your lights instead of a smartphone or tablet.
Additionally, it works with the Nest and SmartThings platforms. For example, with the Philips Hue app, you can turn off the lights without leaving your bed or worrying that you'll rack up an enormous power bill if you leave a light on while you're gone. Instead, the Philips Hue White & Colors Ambiance Starter Kit only requires the touch of a button.
Features of the Philips Hue White & Color Ambiance Starter Kit
LED Screen

 Its power is 9 watts 

120 volts 

A19-sized bulbs
Pros
Numerous colors

Light dimmer

Option for instant-on
Cons
Expensive

Some users report scheduling difficulties.
Samsung SmartThings $210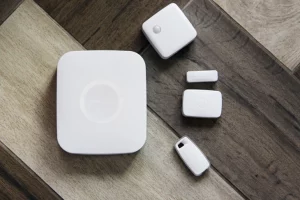 Samsung SmartThings has received much attention, and for a good reason. This is the smart home gadget to get when seeking the best smart home automation system.
It has an upgraded processor and a local app engine for fantastic responsiveness. By connecting your smartphone, you may receive notifications and adjust your preferred smart home devices.
There is a maximum range of 100 feet overall. It is easy to operate, and Samsung refers to it as the brain of your smart home. For convenient access and to set up personalized controls for your devices, choose the SmartThings app and Amazon Alexa.
This smart automation system is compatible with most smart home appliances, including smart locks, sensors, speakers, and lights, regardless of how you connect.
First, establish a Bluetooth connection or an internet router connection. It works with companies like Honeywell, Philips Hue, and Kwikset while being ZigBee and Z-Wave compatible.
In a power outage, SmartThings uses an in-wall power adaptor to provide up to 10 hours of backup power. Two additional hours of power are provided by replaceable batteries.
Watch how much easier life gets once a smart home hub is added.
Features of Samsung SmartThings
Echo on Amazon

It can connect to a variety of devices
Z-Wave and Zigbee
Pros
Fantastic compatibility

Simple app UI
Internet Assistant
Cons
Pricey

No support for Siri
Conclusion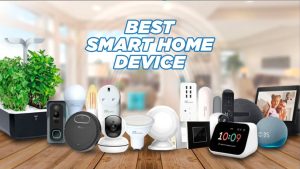 Many economical smart home gadgets only cost a few hundred dollars or less. The greatest smart home appliances cost between $50 and $210, depending on your selected brand and item.
You may purchase a variety of smart home gadgets, including lighting, speakers, and the TV in your living room.
After purchasing individual smart home gadgets, think about installing a hub or automation system to manage them so you don't have to change each separately.
User evaluations are crucial to consider while learning about the ins and outs of a product since, as the saying goes, "the users know best."